Sistani arrives in Najaf; 45 killed in attacks
(Agencies)
Updated: 2004-08-26 21:37
Iraq's top Shi'ite cleric arrived in Najaf Thursday to try to end a bloody three-week uprising as tensions rose sharply following attacks in a nearby town that killed 45 people and wounded 170.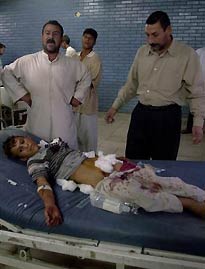 An Iraqi youth lies on a hospital stretcher after he was injured by unidentified gunmen when they opened fire on a peaceful demonstration supporting radical Shiite cleric Muqtada al-Sadr in Kufa, Iraq Wednesday Aug. 25, 2004. [AP]

Grand Ayatollah Ali al-Sistani drove into the battered holy city of Najaf in a huge convoy, guarded by dozens of police pickups with their sirens wailing. Scores of police brandished AK-47 rifles as they drove past thousands lining the streets.

The violence in nearby Kufa came as Sistani's efforts to try to persuade fighters loyal to rebel cleric Moqtada al-Sadr to leave Najaf's holiest shrine appeared to be gaining momentum. Sistani would soon unveil a peace plan, his aides said.

Tens of thousands of Iraqis in cars and on foot, many appearing to respond to Sistani's call to rescue the holy city, were converging on Najaf from several regions, witnesses said.

A mortar attack on Kufa's main mosque killed at least 25 Sadr supporters as hundreds of his men gathered inside, officials said. Shi'ite marchers were fired on in Kufa around the same time and 20 were killed, a Reuters photographer said.

The photographer said he had seen 20 bodies under blankets. It was unclear who opened fire or who launched the mortar.

Mohammed Abed al-Kadhem, a doctor at a hospital in the area, said 25 dead and 100 wounded had been brought in from the mosque attack, and at least 10 dead and 70 wounded from the shooting. Other victims were taken to another hospital in the area.

Television pictures showed dozens of wounded men lying in pools of blood around the mosque.

TEST FOR ALLAWI

Both the moderate Sistani and the radical Sadr have called on their supporters to converge on Najaf, where Mehdi Army militiamen loyal to Sadr are holed up in the Imam Ali mosque.

Hundreds have been killed in the past three weeks in fighting between the militia and U.S. and Iraqi government forces. The clashes have driven oil prices to record highs and undermined interim Prime Minister Iyad Allawi.

An aide with Sistani on the journey from the southern city of Basra said the 73-year-old Iranian-born cleric would unveil a plan to resolve the Najaf crisis. Sistani arrived back from London Wednesday after heart treatment.

"On his arrival, a (peace) initiative will be launched," aide Hamed al-Khafaf told Reuters from Sistani's convoy.

Allawi said he had ordered his forces to observe a 24-hour cease-fire in Najaf from 3 p.m. (1100 GMT) to help the talks.

In a statement, he said representatives of the rebel cleric Sadr -- who has appeared to be ready to accept peace proposals in the past only to back away -- had indicated they would accept the plan from Sistani.

Allawi said Mehdi fighters would be offered an amnesty if they gave up their weapons and left the Imam Ali shrine, and Sadr would also be given safe passage if he ended the uprising.

Military operations would resume 24 hours later if no agreement was reached, Najaf's governor said.

Sistani's peace plan will include getting the Mehdi militia out of the Imam Ali mosque and calling on U.S. marines encircling the shrine to leave, aides said.

OVERNIGHT CLASHES

Overnight, U.S. warplanes unleashed a fierce attack on rebel targets in Najaf. The strikes came just after U.S. artillery fire rattled the city which has a peacetime population of 500,000, about 160 km (100 miles) south of Baghdad.

Sistani left Najaf for medical treatment in London just as the Najaf uprising began three weeks ago. Dressed in a black robe and turban, with a flowing white beard and dark rings around his eyes, he made a dramatic return to Iraq Wednesday.

His followers say the cleric's intervention could break the deadlock in Najaf and ensure a peaceful resolution.

Sistani played a role in ending a similar uprising from the Mehdi militia in April and May.

Sadr has challenged the collegiate leadership of the Najaf clergy headed by Sistani and styled himself as the face of anti-U.S. Shi'ite resistance. Aged only about 30, Sadr has proven a stubborn foe of Iraq's U.S.-backed government.

U.S. firepower has failed to get his rebels out of the mosque as have threats and peace offerings from Allawi.




Today's Top News
Top World News

Guo wins gold in 3m springborad diving




Authorities acting to prevent epidemics




Tokyo urged to teach true history




Efforts pay off against typhoon




Report: Agricultural situation improves




Official promises action on arrears