Dance tells all
By Xiao Changyan (Beijing Weekend)
Updated: 2004-08-26 14:20
Alvin Ailey American Dance Theatre, one of the most acclaimed ambassadors of American culture and dance, will show their masterpiece performances during the National Day holidays in October.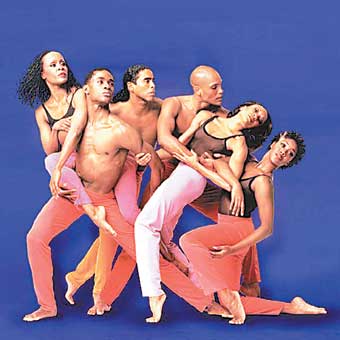 The renowned American cancing company will stage their masterpiece repertoire in Beijing.



It is the theatre's second visit to China, first performing in China 19 years ago.

Founded in 1958, the theatre has performed more than 170 works created by over 65 choreographers in 48 states of America and 70 countries. Its founder, famous choreographer Alvin Ailey, created 79 original ballets over his lifetime.

Unlike other dance troupes, Ailey's purpose is not to create a repository for his own works, but establish a multi-racial repertoire dance company dedicated to the preservation of American dance from the past as well as new works by established and emerging choreographers.

The company has attracted modern dancing talents from around the world. Dancers Judith Jamison, Dudley Williams, Clive Thompson and Donna Wood have established an impressive reputation for the Ailey troupe, setting a new standard for dance in the modern world.

American superstar Madonna and Chinese modern dance master Jing Xin also took their first steps to success at the theatre.

The dance team combine ballet with American Black, Indiana folk, and modern dance. "The popularity of such dance is unsurpassed by any other dancing troupes." said The New York Times.

In this upcoming show in Beijing, the theatre will be performing its famous classic pieces "Revelation", "Winter in Lisbon" and "Following The Subtle Current Upstream", which have earned the theatre world fame.

Regarded as the quintessential modern dance masterpiece, "Revelations" explores the spirituality of African-Americans in the South. With its emotional journey and timeless theme, "Revelations" has been the signature work of the Company for more than 40 years.

"Revelations" continues to exert a magic spell no matter how many times you may have seen it. One can only envy the thrill of those encountering it for the first time," said the Chicago Sun-Times.

"Winter in Lisbon", choreographed in 1992 by Billy Wilson, pays tribute to consummate jazz musician Dizzy Gillespie. Gillespie's music sets the tone for the sizzling, sensuous ballet, evoking an atmosphere where dancers challenge, tease, and romance against a backdrop of rhythm and colour.

Acclaimed San Francisco-based choreographer Alonzo King brings his exhilarating and masterful style to The Ailey with "Following the Subtle Current Upstream", a 20-minute ballet accompanied by an original score by renowned players Zakir Hussain, Miguel Frasconi and Miriam Makeba. Described by The New York Times as "a spectacular in its visual and kinetic impact, this evocative work turns the classical ballet idiom on its head, showcasing the dancers' daring agility and phenomenal strength."

The theatre will also give performances in Shanghai, Hong Kong and Singapore during its tour around China.


Story Tools


Advertisement