Bush campaign lawyer quits over ties to ads group
(Agencies)
Updated: 2004-08-26 14:18
A top lawyer for U.S. President Bush's re-election campaign resigned on Wednesday after disclosing he has been providing legal advice to a group that accuses Democratic presidential candidate John Kerry of lying about his Vietnam War record.
Benjamin Ginsberg was the second person to quit the Bush campaign over ties to the group, Swift Boat Veterans for Truth, which has been attacking Kerry's record through television commercials and a book.
Dispatched by Kerry to defend his service, former Sen. Max Cleland of Georgia and other Vietnam veterans were turned away from Bush's secluded Crawford ranch on Wednesday when they attempted to deliver a letter asking the president to condemn the Swift Boat ads. White House spokesman Scott McClellan dismissed it as a "political stunt."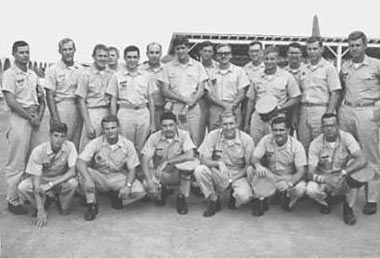 Kerry(Top Center) is seen with a number of swift boat veterans, many of whom are now part of Swift Boat Veterans for Truth, in this January 1969 photo. [Reuters]


Bush campaign chairman Marc Racicot had insisted just last week that "there is no connection of any kind whatsoever" between the campaign and the Swift Boat group, and McClellan stood by that assessment despite the Ginsberg revelations.

The Bush campaign has denied Kerry's charge the president's re-election team is using such "front groups." Bush on Monday called for a halt to the ads, along with others run by independent groups, but he did not condemn the group or its allegations.

Ginsberg, who served as the Bush campaign's chief outside counsel for five years, informed the campaign on Tuesday that he has been giving legal advice to the Swift Boat group.

In his letter of resignation to Bush, Ginsberg defended his actions as legal and said he was proud to have advised the veterans. "I have decided to resign as national counsel to your campaign to ensure that the giving of legal advice to decorated military veterans, which was entirely within the boundaries of the law, doesn't distract from the real issues upon which you and the country should be focusing," he wrote.

Ginsberg later told CNN, "Nobody at the Bush campaign or the White House knew of my dual representation," though he did raise the broad issue of representing such groups to the campaign. Ginsberg said he "assumed" the Swift Boat group knew he was working for Bush.

Rep. John Dingell of Michigan, the top Democrat on the House Energy and Commerce Committee, asked the Justice Department to launch a criminal investigation into the "significant ties" between the Bush campaign and the group.

KERRY RECORD

The fierce dispute over Kerry's record in Vietnam, where he was decorated for bravery, has dominated recent campaigning in the neck-and-neck race for the Nov. 2 presidential election. Both candidates are trying to portray themselves as the best man to lead the United States in its war on terrorism.

Federal election rules bar organizations that take unrestricted donations from coordinating their activities with campaigns or political parties.

Stanzel said the law does not impose restrictions on lawyers, adding: "There has been no coordination at any time" between the campaign and the Swift Boat group.

Likewise, Mike Russell, spokesman for the Swift Boat group, denied any coordination with the Bush campaign, and said Ginsberg had agreed to continue advising the group.

"I was at the nexus of making sure (coordination) didn't happen. To suggest otherwise is flat wrong," Ginsberg said.

But Kerry campaign manager Mary Beth Cahill countered: "The sudden resignation of Bush's top lawyer doesn't end the extensive web of connections between George Bush and the group trying to smear John Kerry's military record. In fact, it only confirms the extent of those connections."

In his resignation letter, Ginsberg added that his work for Swift Boat was "quite similar" to ties between lawyers affiliated with the Kerry campaign and several left-leaning groups attacking Bush, including Moveon.org, the Media Fund and Americans Coming Together.

Bush campaign manager Ken Mehlman accused the Kerry campaign of "hypocrisy," citing attorney Bob Bauer's ties to both the Kerry campaign and America Coming Together. The Kerry campaign said it received election advise from Bauer during the primaries, but that he now works with the DNC.

The Massachusetts senator has called the Swift Boat ads inaccurate and has asked the Federal Election Commission to force them to be withdrawn. After the Swift Boat ads, support for Kerry among the country's veterans declined, according to a CBS News poll.

As a Navy lieutenant commanding a gunboat in Vietnam, Kerry was decorated five times for valor and sustaining combat wounds. He has shrapnel in his leg from one of those wounds.

Records show the Swift Boat group received some of its funding from long-time Bush supporters. Its new commercial also features one veteran, Ken Cordier, who was on a Bush campaign committee until last week, when he was forced to quit.




Today's Top News
Top World News

Annan applauds China's role in United Nations




Talks ongoing to free kidnapped Chinese




WHO report highlights traffic safety in China




China issue rules on overseas investment




Assessing status of nation's health




Bus crash kills 21 in Southwest China