Zhang Yimou to raise China lantern in Athens
(Xinhua)
Updated: 2004-08-26 14:02
"The world gave me eight minutes and I will give the world a surprise." said Chinese director Zhang Yimou, who is gearing up to stun the world with an eight-minute show at the closing ceremony of the Athens OIympics.
Zhang Yimou will have a chance to demonstrate his talents this Sunday at the Olympic Stadium, when some 130 Chinese artists present the eight-minute show he has put together.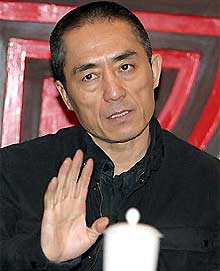 Chinese director Zhang Yimou will head for Athens to direct an 8 minutes performance at the Athens Olympics closing ceremony. [sina]

The world-famous film director hopes to surprise spectators with his show at the closing ceremony. He said, "The show is mainly dancing and movements that everyone will be able to understand. My aim is to show the world that Chinese culture is also international."

The eight-minute show will come at a meaningful moment for China, as it prepares to host the next Olympics in 2008.

Jiang Xiaoyu, vice chairman of Beijing Organizing Comm. for 2008 Olympics, said, "The national anthem will be played about 49 seconds. Then Athens will hand-over the Olympic flag to Beijing officials. And then there will be the eight-minute show."

This is the second time director Zhang Yimou has worked on an Olympics-related program. In 2001, he directed a short film to promote Beijing's Olympic bid. Well-known for his feature films, including Raise the Red Lantern and Hero, Zhang has been chosen to direct the opening ceremony of the Beijing Olympics in four years time.




Today's Top News
Top Sports News

Authorities acting to prevent animal epidemics




China wins gold in 3m springborad diving




Iraqi government, Al-Sadr OK peace deal




Tokyo urged to teach true history




HK exhibition honours Deng Xiaoping




Report: Agricultural situation improves