Sistani to lead peace mission to embattled Iraq city
(Agencies)
Updated: 2004-08-26 11:36
Iraq's top Shi'ite cleric was due to travel to Najaf on Thursday after making a surprise return to the country to try to end bitter fighting creeping ever closer to the city's holiest shrine.
Aides to Grand Ayatollah Ali al-Sistani said the cleric, the most powerful voice of moderation in the tormented country, would unveil an initiative to get Shi'ite rebels out of the revered Imam Ali mosque. They gave no details.
Sistani has called for his supporters to march on Najaf to help end the crisis in the city, where militiamen loyal to rival Shi'ite cleric Moqtada al-Sadr have fought a three-week-old uprising against U.S. and Iraqi government forces.
The reclusive 73-year-old Sistani left Iraq for medical treatment in London just as the uprising began. He made a dramatic return on Wednesday, arriving in a convoy from Kuwait and spending the night in the southern city of Basra.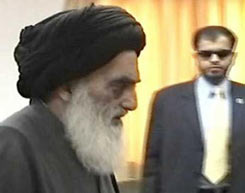 Video image shows Ayatollah Ali al-Sistani, Iraq's powerful religious leader upon his arrival in the southern city of Basra, as a security man watches (R), August 25, 2004. Sistani made a sudden return to the country and said he had a plan to end an uprising in the 'burning city' of Najaf, where fighting is creeping ever closer to its holiest shrine. [Reuters]

Sistani's aides said he would depart for Najaf at 7 a.m. (11 p.m. EDT) on Thursday with his supporters. They urged U.S. forces encircling the gold-domed mosque to leave.

Sistani's followers say his intervention could break the deadlock in Najaf and ensure a peaceful resolution.

FEARS OF CLASHES

But Sadr, who has challenged the collegiate leadership of the Najaf clergy headed by Sistani and styled himself as the face of anti-U.S. Shi'ite resistance, has also called on his supporters to march on Najaf.

There are fears that the influx of large numbers of Shi'ites from rival groups into a city already beset by conflict could inflame tensions and worsen the violence.

Thousands of Iraqis began gathering in Shi'ite areas overnight to begin the journey to Najaf. Witnesses said two Shi'ite marchers were killed west of the city on Wednesday evening when police opened fire on a crowd.

"We ask all believers to volunteer to go with us to Najaf," Sistani said in a statement read out on his behalf in Basra on Wednesday by his aide Hayder al-Safi. "I have come for the sake of Najaf and I will stay in Najaf until the crisis ends."

His return to Iraq came as U.S. and Iraqi forces tightened their grip around Mehdi Army militants loyal to radical Shi'ite cleric Moqtada al-Sadr holed up in the mosque, advancing to within 300 yards of the rebel-held shrine.

U.S. planes unleashed a fierce attack on rebel targets in Najaf early on Thursday, a Reuters witness said.

The air strikes shook Najaf just after U.S. artillery fire and cannon assaults from an AC-130 gunship rattled the city of 500,000.

Sadr aide, Mahmoud al-Soudani, told Al Arabiya television the Mehdi militia were prepared for talks to halt the fierce fighting, which has killed hundreds, undermined interim Prime Minister Iyad Allawi and rattled world oil markets.

Iraqi Defense Minister Hazim al-Shalaan had warned the Mehdi fighters they would be wiped out if they did not leave the mosque by Tuesday evening. U.S. and Iraqi officials have said only Iraqi forces would storm the mosque if an assault comes, but so far they have held off.

Some 500 Iraqi troops have been deployed around the shrine.

Some 2,000 U.S. marines backed by aircraft have pounded rebels whose main weapons are AK-47 assault rifles, rocket propelled grenades and mortars. But any raid by U.S. troops on the shrine could trigger mass protests.




Today's Top News
Top World News

World oil price spike hits Chinese market




Russia investigates twin plane crashes




Coastal provinces braces for typhoon strike




China reassures air passengers




Liu Xiang in good form, Johnson crashes out




Heavy rains raise water level in Yellow River