Joan Chen to direct new movie
(Shenzhen Daily)
Updated: 2004-08-26 10:09
Actress-turned-director Joan Chen is to direct a film called The Lost Daughter of Happiness, based on the latest novel written by her long-time partner Yan Geling.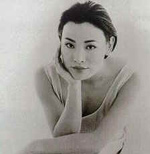 Joan Chen [baidu]

Yan, a Chinese writer living in the United States, and Chen have successfully cooperated twice before. Siao Yu and Xiu Xiu: The Sent Down Girl achieved great success in the Asia-Pacific Film Competition and the Golden Horse Awards.

Yan's bestselling book The Lost Daughter of Happiness depicts the enslaved life of early Chinese settlers in the United States through the love story of a Chinese woman Fusang and an American man.

The actress to play Fusang still remains a mystery. The production company is considering famous actresses Zhang Ziyi and Gong Li because of their international fame.

However, Yan and Chen prefer Hong Kong actress Hsu Chi because she better reflects the character of Fusang.