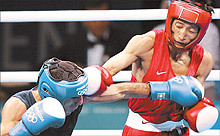 China's Zou Shiming punches Armenia's Aleksan Nalbandyan during their men's light flyweight (48 kg) quarter-final at the Athens 2004 Olympic Games on Tuesday. Zou won the match. (Reuters)
Light flyweight Zou Shiming achieved a historic breakthrough for Chinese boxing as he beat his Armenian opponent on points 20-12 Tuesday to secure the first ever Olympic boxing medal for his country at the 2004 Athens Olympic Games.
With rapid-fire attacks and extremely flexible pacing, the 23-year-old Zou outclassed Aleksan Nalbandyan of Armenia in the four-round quarterfinal match to book a berth in the semifinals of the 48kg category.
With the loser of the semi-final guaranteed a bronze medal at the Olympic boxing tournament, Zou has secured at least a medal for China, the best ever result for Chinese boxers at the Olympic Games.
"I can't say anything to you now since I am just watching the match of my opponent in the semi-finals," said Zou, when reached via mobile phone.
In the semi-finals scheduled for August 27, Zou will take on Cuban boxer Varela Yan Bhartelemy, who beat South Korean Hong Moo Won 30-11 on points in another quarterfinal match.
Zou, a native of Zunyi city, Guizhou Province in southwest China, scored a staggering win over 2001 world champion Yan Bhartelemy Varela of Cuba in last year's world championships in Bangkok, where he went on to win the silver medal.
Russian southpaw Sergey Kazakov, who beat Zou in last year's world final, beat Namibia's Joseph Jermi 18-11 and next fights Turkey's Atagun Yalcinkaya, who outpointed Italy's Alfonso Pinto 33-24.
"We have aimed at a major breakthrough at this Olympic Games, but we didn't put much pressure to ourselves," said Li Qingsheng, head coach of the Chinese boxing team.
"Therefore, Zou boxed all his matches in a fairly relaxed manner and fully displayed his strength," Li added.
Though the Armenian boxer boxed quite well in the previous rounds, Zou felt he was quite sure of beating him after "some careful analysis of his techniques," said Li.
Zou established an early lead 4-1 in the first round and controlled the match. He was 9-3 ahead at the end of the second round and 15-6 at the end of the third. Zou had defeated Rau Shee Warren of the United States and Endalkachew Kebede of Ethiopia to reach the quarterfinals.
There was bad news as Lei Yuping's bid for another medal for China ended in a 27-18 points defeat to Magomed Aripgadjiev of Belarus in the light heavyweight (81kg) quarter-finals.

(China Daily)