Thatcher's son charged over coup plot
(Agencies)
Updated: 2004-08-26 07:45
The son of former British Prime Minister Margaret Thatcher, an ex-race car driver whose business career has been dogged by accusations of questionable arms deals and shady ventures, was charged Wednesday with helping finance a foiled coup plot in oil-rich Equatorial Guinea.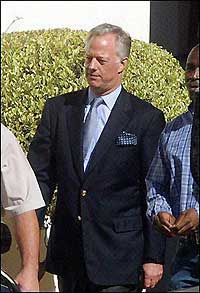 Mark Thatcher, the son of former British prime minister Margaret Thatcher, shown here in Cape Town, said he is innocent of charges against him of bankrolling a coup plot in Equatorial Guinea. [AFP]

Thatcher, 51, was arrested at his Cape Town home and taken before Wynberg Magistrate's Court to be charged with violating the country's Foreign Military Assistance Act.

"We have evidence, credible evidence, and information that he was involved in the attempted coup," said Sipho Ngwema, a police spokesman. "We refuse that South Africa be a springboard for coups in Africa and elsewhere."

Authorities in several African nations announced in March that they had foiled an attempt to overthrow President Teodoro Obiang of Equatorial Guinea, who is widely accused of torture and other abuses while ruling a nation that has become the continent's third-biggest oil producer.

Magistrate Awie Kotze placed Thatcher under house arrest and gave him until Sept. 8 to post bail of US$300,000. Thatcher, who nervously tapped a pen in his palm during the proceeding, smiled and said, "Thank you," before he was led away to be driven home.

Outside court, Thatcher's lawyers said he was arrested on suspicion of providing financing for a helicopter linked to the coup plot.

"Mr. Thatcher is not guilty of any allegations," attorney Alan Bruce-Brand told reporters. "He has nothing to hide and is already cooperating with authorities."

There was no immediate reaction from Thatcher's mother, who was thought to be in the United States.

Police raided Thatcher's home in the upscale suburb of Constantia shortly after 7 a.m. and investigators searched his records and computers.

Hours later, he was driven away in a police vehicle. But his court appearance was delayed when he was robbed of his shoes, jacket and cell phone in a crowded holding cell, according to a court official who witnessed the attack. Police recovered the items.

Equatorial Guinea put 19 people on trial Monday in the alleged plot. One other defendant died in custody under suspicious circumstances. Seventy suspected mercenaries are on trial separately in Zimbabwe.

Equatorial Guinea's justice minister, Ruben Mangue, sidestepped questions about seeking Thatcher's extradition. "Let's first give an opportunity to the South African authorities and the South African legal system to handle the situation," he told BBC radio.

The alleged ringleader of the plot, former British special forces soldier Simon Mann, was among those arrested March 7 in Zimbabwe, where authorities said they stopped a planeload of mercenaries going to Equatorial Guinea. The men maintain they were headed to security jobs at a mining operation in Congo.

At the trial in Equatorial Guinea, one of the defendants testified Wednesday that Thatcher met with Mann in July 2003. Nick du Toit, a South African arms dealer, said Thatcher expressed interest in buying military helicopters for a mining enterprise in Sudan, but described the meeting as a "normal business deal" unrelated to the alleged coup plot.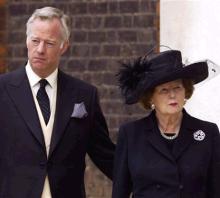 A July 3 2003 photo from files of Mark Thatcher and his mother, former British Prime Minister Baroness Thatcher, during the funeral of Denis Thatcher. [AP]

Thatcher studied accounting but then pursued an undistinguished career in motor racing. In January 1982, he was lost for six days during an auto rally across the Sahara Desert, causing his mother to weep in public for the first time.

He started his own company and moved to Texas in April 1984 after a lengthy controversy over reports that he represented a British construction firm that won a US$600 million contract in Oman while Mrs. Thatcher was there on a trade-boosting trip in 1981.

Thatcher also was scrutinized by Britain's Parliament in 1994 over news reports that he was involved in arms sales to Saudi Arabia and Iraq while his mother was prime minister. In one case, the Sunday Times reported that Thatcher made US$15 million in commissions on a US$25 billion arms sale to Saudi Arabia, but it said there was nothing illegal about the deal.

Thatcher moved to South Africa two years ago after business troubles in the United States.

While living in Dallas, he settled a civil racketeering lawsuit for an undisclosed sum. He also faced charges from the Internal Revenue Service over his role with a Dallas-based home security company that went bankrupt.

Thatcher and his twin sister, Carol, are the only children of Lady Thatcher and the late Denis Thatcher.

His sister expressed shock over the arrest, but declined to comment on the case, saying she didn't know anything about the allegations.

"Mark is in a legal process in South Africa. I haven't spoken to him and I haven't spoken to my mother. So until we've done that I can't say anything more," she said in London.

She said she was most worried about how the charges would affect her 79-year-old mother. "She is in America. I haven't spoken to her. I don't know her reaction and I care about her," she said.







Today's Top News
Top World News

World oil price spike hits Chinese market




Coastal provinces braces for typhoon strike




China reassures air passengers




Liu Xiang in good form, Johnson crashes out




Heavy rains raise water level in Yellow River




Singapore PM praised for one-China stance