Iraq prison probe faults intelligence unit
(Agencies)
Updated: 2004-08-26 07:35
More than two dozen soldiers and contractors attached to a military intelligence unit at Abu Ghraib prison in Iraq approved or took part in abuses of Iraqi detainees, an Army investigation has found in one of the most comprehensive looks to date at the scandal that damaged America's image around the world.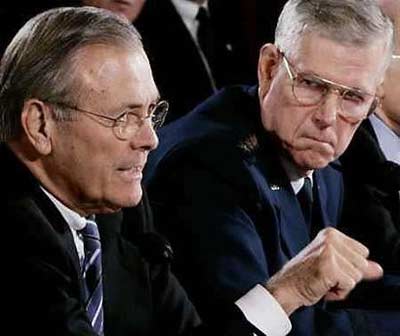 Rumsfeld (L) and Chairman of the Joint Chiefs of Staff U.S. Air Force Gen. Richard B. Myers testify on Capitol Hill, Aug. 17. An independent Pentagon panel found that US Defense Secretary Donald Rumsfeld and the Joint Chiefs of Staff failed to exercise proper oversight over confusing detention policies at US prisons in Iraq, Afghanistan and Cuba, a defense official said August 23, 2004. [AP Photo]
A few of the abuses amounted to torture, Maj. Gen. George Fay, one of the chief investigators, said Wednesday.
"This is clearly a deviation from everything we've taught people on how to behave," said Gen. Paul Kern, who oversaw the investigation. "There were failures of leadership, of people seeing these things and not correcting them. There were failures of discipline."
Officers in charge of the prison were negligent in the training and management of their troops, and some may face criminal charges, Army officials said. Until now, just seven lower-ranking military police soldiers have been charged.
In Philadelphia, U.S. Democratic presidential candidate John Kerry repeated his call for Defense Secretary Donald H. Rumsfeld to resign and for U.S. President Bush to appoint an independent commission.
"Harry Truman had that sign on the desk and it said, 'The buck stops here,'" Kerry said. "The buck doesn't stop at the Pentagon."
The White House has blamed the scandal on a group of rogue soldiers who it said were acting on their own.
The new report identifies 27 people attached to the 205th Military Intelligence Brigade, which oversaw interrogations at Abu Ghraib, who are accused of complicity in the abuses. Of those, 23 are soldiers and four were civilian contractors working for the unit.
The investigation report says the violent and sexual abuses — particularly those captured in the now-famous pictures of naked and frightened prisoners — were mostly the work of a group of guards and military intelligence personnel who were not conducting interrogations but instead amusing themselves.
The report distinguishes this group of abuses from mistreatment committed during actual interrogations, which also occurred.
Some 15 of 23 soldiers from the 205th who are accused of abuse were interrogating prisoners and wrongly believed they were using approved techniques to question them, Army officials said. One such unapproved technique was interrogating a detainee naked, the report said.
The Army's findings appear to widen to more than 50 the number of people who may face charges or disciplinary action for the abuses at Abu Ghraib. Criminal allegations against civilian contractors will be referred to the Justice Department for possible prosecution.
Investigators recommended that five officers with command responsibilities, including Col. Thomas Pappas, commander of the 205th, and Lt. Col. Stephen Jordan, director of the Abu Ghraib interrogation center, face possible disciplinary action, Army officials said.
While these individuals did not directly take part in abuses, their poor leadership contributed to the conditions that allowed them to occur, officials said.
The seven members of the 800th Military Police Brigade, which supplied the guards at the prison, have been charged in connection with the abuses seen in the photos. In addition, six soldiers in the 205th, the intelligence unit, and two other contractors witnessed the abuse but failed to report it, which also violates regulations, Kern said.
The report said investigators discovered three more MPs who took part in abuses, and one more who knew of the mistreatment and did not report it. It also noted that two medics knew of the abuses but did not report them.
Most of the people are not identified in the investigation report. All of them may face charges or disciplinary action for abuses that occurred between late July 2003 and early February 2004.
"We discovered serious misconduct and a loss of moral values," Kern said.
The report blames the abuses on several factors: "misconduct (ranging from inhumane to sadistic) by a small group of morally corrupt soldiers and civilians, a lack of discipline on the part of leaders and soldiers," and a "failure or lack of leadership" by higher command in Iraq.
Kern said Lt. Gen. Ricardo Sanchez, the senior U.S. officer in Iraq when the abuses occurred, was responsible for "the things that did or did not happen" but not directly culpable for the abuse.
The lead investigators were Fay and Lt. Gen. Anthony R. Jones.
The Army's investigation recorded 44 separate incidents of abuse, including one that led to the death of a prisoner, officials said.
Kern said the most horrific case involved military canine handlers using their dogs to try to frighten two Iraqi adolescents into involuntarily fouling themselves.
The report attributes some problems to the influence of officials with "other government agencies" — a term frequently used by the Pentagon for the Central Intelligence Agency. CIA interrogators and contractors were also at Abu Ghraib.
"It is clear that the interrogation practices of other government agencies led to a loss of accountability at Abu Ghraib," the report says, but it provides little detail.
The other agencies also kept at least eight "ghost detainees" — prisoners concealed from the International Committee of the Red Cross, Army officials said. It was one of those eight who died during interrogation.
Army officials credited the military with fixing many problems outlined in the report, and said the vast majority of military personnel in Iraq are doing their jobs honorably.
Their findings came a day after an independent panel released a report blaming senior leaders, including Rumsfeld and Joint Chiefs Chairman Richard Myers, for lax oversight of military-run prisons in Iraq. This contributed to the chaos at Abu Ghraib, said members of that panel, led by former Defense Secretary James R. Schlesinger.
That report said about one-third of the substantiated cases of prisoner abuse throughout the military-run prison system took place during interrogations.
It found no policy of abuse and concluded that the problems were directly the fault of the soldiers who committed violence against the prisoners, and their immediate supervisors.
Today's Top News
Top World News

World oil price spike hits Chinese market




Russia investigates twin plane crashes




Coastal provinces braces for typhoon strike




China reassures air passengers




Liu Xiang in good form, Johnson crashes out




Heavy rains raise water level in Yellow River