Coastal provinces brace for typhoon strike
By Bao Daozu (China Daily)
Updated: 2004-08-26 01:25
Typhoon Aere lashed Fuqing in East China's coastal Fujian Province Wednesday afternoon.
The typhoon, packing strong force 12 winds and heavy rains, uprooted trees and comes just two weeks after Typhoon Rananim wreak havoc in the same coastal area - killing over 160 and causing billions of yuan worth of damage.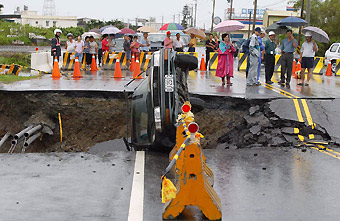 A car falls victim to Typhoon Aere which swept through Taipei County, Taiwan Province yesterday, causing extensicve flood and wind damage. [newsphoto]


Early reports say one person has died and four are missing following three shipping accidents caused by high seas. Two people are reported as injured.

There were no reports of further casualties as the China Daily went to press. Some 220,000 people have been evacuated to safer areas in Fujian.

Aere continues to move southwestwards and is predicted to sweep through southern and central part of Fujian and head towards Jiangxi and Guangdong Province, according to Fujian Meteorology Observatory.

Inland Longyan and Sanming cities are expected to embrace strong wind of force 7 to 8.

Putian City in Fujian Province issued a red weather-warning signal Wednesday morning, making full preparations to fight against the attack.

Colour-coded weather warnings labelled blue, yellow, orange and red in an ascending order matching national standards of seriousness of the 11 extreme weather conditions and red is the most serious one.

Ships between the coastal city of Xiamen, and Jinmen, an island near Taiwan province, were cancelled from Wednesday and will resume normal operation on Friday.

The freeway between Fuzhou and Xiamen was closed to traffic except buses travelling on local short-distance routes.

Fujian evacuates more than 240,000

Public transportation was operating normally in Fuzhou, said Fuzhou Bus Company officials.

Fujian education authority Wednesday requested all the schools to stop all the studentactivities, including summer camps and field work.

The colleges have been asked to postpone enrollment dates.

Fuzhou Changle International airport delayed 16 flights and cancelled 7 due to the bad weather.

Experts with the Central Meteorological Observatory said Aere was expected to be the second most powerful typhoon to ravage eastern and southern China this year -- and just two weeks after typhoon Rananim killed 164 people in East China's Zhejiang Province and caused 18.128 billion yuan(US$2.18 billion)..

Fearing a repeat of the disaster, the Zhejiang government s evacuated 249,000 people after it was named as the predicted landfall site of aTyphoon Aere.

Aere wrath is likely to be felt across a large area withtorrential rains expected in South China's Guangdong Province in the coming two days.

Taiwan is expected to receive a protracted battering and residents have been warned of catastrophic rainfall and dangerous road conditions, the Taipei Times reported.

Schools, offices, and financial districts remained closed Wednesday in Taipei City and counties in northern, central and northeastern parts of the island.

Bad weather is forecast to continue today and further warnings have been given to people in mountainous and low-lying areas.




Today's Top News
Top China News

World oil price spike hits Chinese market




Russia investigates twin plane crashes




Coastal provinces brace for typhoon strike




China reassures air passengers




Heavy rains raise water level in Yellow River




Zhang Yimou to raise China lantern in Athens