Hunt on for clues in Russian plane crashes
(Agencies)
Updated: 2004-08-26 00:49
Two Russian passenger planes have crashed almost simultaneously, killing all 89 people on board in what investigators say might have been a terrorist attack or simply a mysterious coincidence.
The planes, which belonged to two different companies and were bound for different destinations, took off from Moscow's Domodedovo airport around an hour apart late on Tuesday and crashed within minutes of each other.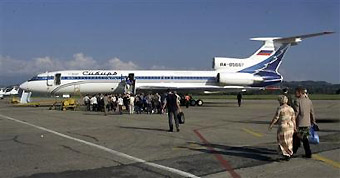 Passengers get aboard a Sibir Airline Tu-154 at Sochi airport, Southern Russia, in this Oct. 8, 2001 file photo. A similar Tu-154 airliner went missing near Rostov-on-Don, about 965 km (600 miles) south of Moscow, Tuesday, Aug. 24, 2004. ITAR-Tass reported that the Tu-154 had crashed. [AP]


President Vladimir Putin ordered the FSB security service to investigate the case, something it is normally only asked to do where terrorism is suspected. Security has been tightened at all Russian airports since the crashes.

Later in the day Putin broke his summer holiday in the Black Sea resort of Sochi and returned to Moscow, the Kremlin said.

Fear of attacks in Russia is already high ahead of next Sunday's presidential election in restive Chechnya which separatist rebels have vowed to disrupt.

A Tu-134 flying to Volgograd went down near the town of Tula south of Moscow. Within minutes and 800 km (500 miles) away, a Tu-154 bound for Sochi crashed near the southern town of Rostov-on-Don.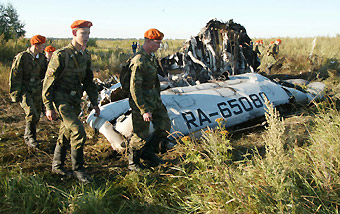 Russian Emergencies Ministry servicemen inspect the wreckage of a Russian Tupolev Tu-134 plane near Tula, some 150 kilometres from Moscow. All 44 people on the plane were killed, together with those on another plane which almost crashed at the same time. [Reuters]


The owner of the Tu-154, Sibir Airlines, said the pilots had triggered a hijack alert just before their plane with 46 passengers and crew on board crashed.

"The message was generated right before all contact was lost with the plane and it disappeared from radar screens," Russia's number two airline said in a statement.

The company also said there were indications that its plane exploded in the air.

"The wide distribution of large fragments indirectly confirms the conjecture that the plane broke up in midair because of an explosion," a company statement said.

Volga-Aviaexpress, a small regional carrier which owned the Tu-134, said the crew did not report any problems on board before the plane crashed with 43 passengers and crew.

Interfax news agency quoted an aviation source as saying the coincidence of both planes leaving from the same airport and disappearing at the same time would suggest it was "a planned action".

"In such a situation one could not exclude a terrorist act," the source was quoted as saying.

FSB SEES NO PROOF OF TERRORIST ACT

But the FSB officials said they were more likely accidents.

"The main line of inquiry we are following is violation of the rules of operating civil aircraft," FSB spokesman Sergei Ignatchenko said.

Ignatchenko said this meant pilot error, mechanical defects or problems with fuel quality -- prime suspects in Russia, where pilots are poorly paid and planes often old.

"We are also examining the possibility of a terrorist act, but we have no evidence to support this."

Sibir and Volga-Aviaexpress rejected the possibility of human or technical faults, saying that the planes were properly checked before the flight and had experienced crews.

The Tu-134 was piloted by the head of the company and was carrying two auditors from the aviation authority, who perform regular checks of all air carriers.

The crashes came against a backdrop of violence in Chechnya, where Moscow has been battling separatists for a decade. Rebels launched a major raid in the local capital Grozny last week.

Moderate Chechen separatists denied any role in the crashes.

Asked if his group was responsible for the crashes, Akhmed Zakayev, a spokesman for Chechnya's separatist leader Aslan Maskhadov, told Reuters in London: "Of course not."

"To us any form of terrorism is absolutely unacceptable. We have condemned it and continue to condemn it," he said.

Witnesses on the ground heard an explosion from the Tu-134 before it crashed 150 km (90 miles) south of Moscow.

"Around 11 p.m. (8 p.m. British time), give or take five minutes, there was this strange noise in the sky, then this torn-up book fell onto our garage," a local man told NTV television, holding up the book with its tattered pages.

Local prosecutors opened criminal probes into both crashes. Investigators recovered the flight recorders from both planes and sent them to Moscow for analysis.

Interfax said more than 1,500 servicemen were involved in search operations.

Rescuers had found the bodies of all 43 killed in the Tula crash, while the recovery effort in Rostov was taking longer, as wreckage from the crash was spread over several kilometres.




Today's Top News
Top World News

Hunt on for clues in Russian plane crashes




China reassures air passengers




Fujian braces for typhoon strike




Oil futures trading restarts




Blaze wrecks Chinese market in Russia




Heavy rains raise water level in Yellow River