Jackie Chan's "New Police Story" to debut Pan-Asia
(CRI)
Updated: 2004-08-25 17:02
As Chinese films become bigger and better, would the name Jackie Chan, plus big shots, Charlie Yeung and Nicholas Tse, be enough to entice you to see the soon-to-be-released "New Police Story?"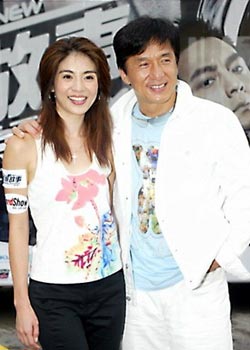 Hong Kong action movie great Jackie Chan poses with actree Charlie Yeung for a photo at a promotional event of his new made-in-Hong Kong hit "New Police Story." [sina]

The movie, directed by Benny Chan, is being shot with a budget of 85 million yuan, or 10 million US dollars, and will be released across Asia on September 24th.

A press conference was held Sunday in Hong Kong with the presence of the cast-members including the pop duo Twins member Charlene Choi, or Cai Zhuoyan in mandarin, and Daniel Wu, or Wu Yanzu.

As opposed to Jackie Chan's recent movies, "New Police Story" will pay more attention to realistic action, with minimal use of special effects.