Report: Abu Ghraib was 'Animal House'
(Agencies)
Updated: 2004-08-25 11:25
Abuses photographed at Abu Ghraib prison in Iraq represented "deviant behavior and a failure of military leadership and discipline" at the facility, but direct and indirect responsibility for those acts and others elsewhere went higher up the chain of command, an independent panel reported Tuesday.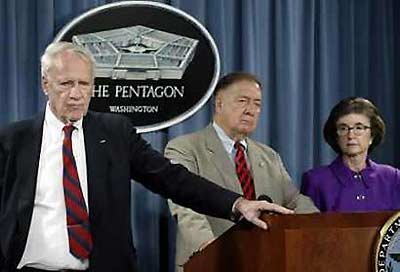 US Defense Secretary Donald Rumsfeld came under fire on August 24, 2004 from a high-level inquiry into the Abu Ghraib prison scandal but a U.S. military judge ruled he did not have to testify at a trial arising from the abuse of Iraqi prisoners. A four-member panel headed by former Defense Secretary James Schlesinger(L) issued a report accusing the chain of command from Rumsfeld down of leadership failures that created conditions for the abuse late last year that sparked anti-American outrage across the world. Panel members Schlesinger Air Force General Charles Horner(C) and Former U.S. Representative Tillie Fowler are seen at the Pentagon Tuesday. [AP Photo]
The prison's weaknesses were no secret and they should have been fixed, said James Schlesinger, chairman of the four-member advisory panel appointed by Secretary of Defense Donald Rumsfeld in early May to investigate abuse allegations.
"We believe that there is institutional and personal responsibility right up the chain of command as far as Washington is concerned," Schlesinger told a news conference to release the 126-page report.
Former Republican Rep. Tillie K. Fowler of Florida, a panel member who was once a senior member of the House Armed Services Committee, was more direct.
"We found fundamental failures throughout all levels of command, from the soldiers on the ground to Central Command and to the Pentagon. These failures of leadership helped to set the conditions which allowed for the abusive practices to take place," Fowler said.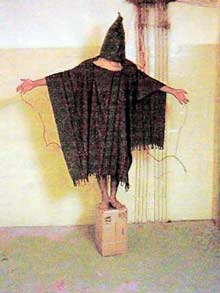 A hooded detainee is shown standing atop a box at the Abu Ghraib prison in this undated file photo. [File Photo]
She said the Joint Chiefs of Staff and the head of the U.S. Central Command failed to plan properly for the treatment of prisoners.
"There was sadism on the night shift at Abu Ghraib, sadism that was certainly not authorized," Schlesinger said. "It was kind of 'Animal House' on the night shift.
Schlesinger noted, however, that there was "no policy of abuse."
"Quite the contrary," Schlesinger said. "Senior officials repeatedly said that in Iraq, Geneva regulations would apply."
Commanders at Abu Ghaib did not "adequately supervise" the actions by the people involved in the abuse, said Schlesinger, who was secretary of defense for Presidents Nixon and Ford.
Those who ran the facility, which held as many as 7,000 prisoners just outside Baghdad, were often under great stress, said Schlesinger, who also served as President Carter's secretary of energy.
The building was constantly shelled, and Iraqi police sometimes slipped arms to the inmates, he said.
In addition, the ratio of prisoners to military police officers was 75-to-1, versus 1-to-1 at the Guantanamo Bay, Cuba, naval base. The guards at the Iraqi facility lacked training and arrived without equipment, he said.
Panel member Charles A. Horner, who led the air campaign in the 1991 Iraq War and was former commander of the North American Aerospace Defense Command and Space Command, urged caution in affixing blame.
"We all have 20/20 hindsight that makes us perfect," said the retired Air Force general.
The other panel member was Harold Brown, secretary of defense for President Carter. All four are members of the Defense Policy Board, which advises Rumsfeld.
Rumsfeld issued a statement saying he appreciated the panel's work and that "we look forward to reviewing their analysis and recommendations in detail."
Asked if Rumsfeld should resign, Schlesinger said, "His resignation would be a boon to all of America's enemies and, consequently, I think it would be a misfortune if it were to take place." The three other panel members concurred.
Schlesinger said abuses were widespread throughout the military detention system, which was set up after hostilities began in Afghanistan.
Of the 300 allegations of abuse that have been made from the 50,000 people detained in Iraq, Afghanistan and Guantanamo Bay, 155 investigations have been completed and 66 cases of abuse substantiated, the report said.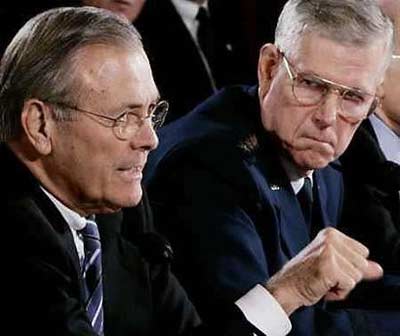 Rumsfeld (L) and Chairman of the Joint Chiefs of Staff U.S. Air Force Gen. Richard B. Myers testify on Capitol Hill, Aug. 17. An independent Pentagon panel found that US Defense Secretary Donald Rumsfeld and the Joint Chiefs of Staff failed to exercise proper oversight over confusing detention policies at US prisons in Iraq, Afghanistan and Cuba, a defense official said August 23, 2004. [AP Photo]
Eight took place at Guantanamo, three in Afghanistan, and 55 in Iraq, the report said. "Only about one-third were related to interrogation, and two-thirds to other causes," it said.
Five detainees died from abuse during interrogations, it said. Many others died from natural causes and enemy mortar attacks. Twenty-three cases of detainee deaths were still under investigation -- three in Afghanistan and 20 in Iraq -- the report said.
None of the prisoners depicted in the photographs that were first published in April was being held for their intelligence value, Schlesinger said.
The report cited the CIA for not giving it "full access to information involving CIA's role in detention operations." It said that area needs further investigation.
A Pentagon report by U.S. Maj. Gen. George Fay is expected to recommend up to 27 people once assigned to Abu Ghraib for referral to authorities for possible additional legal action, including as many as five private contractors, a senior Pentagon official familiar with the document said.
The report was due to be released in July but is now expected to be released Wednesday, the official said.
The official also said Lt. Gen. Ricardo Sanchez, commander of U.S. forces in Iraq when the abuses took place, will be criticized in the report for failing to oversee the prison system properly and failing to provide enough resources and personnel. Sanchez has since been replaced as commander in Iraq.
In Mannheim, Germany, Staff Sgt. Ivan "Chip" Frederick, one seven MPs charged in the Abu Ghraib scandal, agreed to plead guilty to several of the charges against him.
Frederick's lawyer said that a culture of humiliation existed "prior to Frederick and his company arriving on the scene."
Frederick's was the last of four pretrial hearings scheduled over the past two days at an Army post in Mannheim; Spc. Charles Graner, Spc. Megan Ambuhl and Sgt. Javal Davis also appeared.
Today's Top News
Top World News

Russian jet crashes kill at least 89; attack feared




Bank of China turns into joint stock firm




Action taken to prevent bird flu spreading




Eastern provinces prepare for typhoon




Report: Abu Ghraib was 'Animal House'




Guangdong to auction most of official cars