Iraq forces advance on Najaf shrine, battle rages
(Agencies)
Updated: 2004-08-25 08:51
Iraqi security forces tightened their grip around a key shrine in Najaf on Tuesday after the government warned Shi'ite rebels inside they must surrender or die.
"God willing, we'll be moving in tonight," a commander of one unit told Reuters, adding that around 500 Iraqi troops had been deployed to the area around the Imam Ali mosque, the first time government forces had entered the battle zone.
After nightfall, a U.S. AC-130 gunship joined an attack on Shi'ite militant positions, its rapid-fire cannon sounding like a jack hammer as it hit targets. Blasts were heard and U.S. helicopters circled overhead.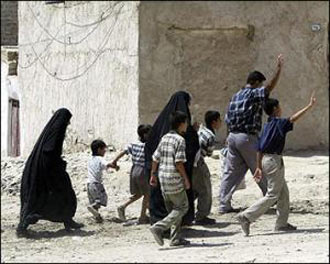 Residents raise their hands as they walk through the Old City of Najaf during clashes between Iraqi Shiite cleric Moqtada Sadr's Mehdi Army militia and US-led Iraqi forces. [AFP]
The plane's cannons fired again later in the night, leaving the old city shrouded in smoke that concealed even the usually bright floodlighting of the shrine, a Reuters photographer said.
There was no sign of a final ground push but Iraqi troops came within 400 yards of the shrine, and roads around it were sealed off.
Defense Minister Hazim al-Shalaan said the Mehdi Army fighters loyal to radical cleric Moqtada al-Sadr faced death unless they ended their rebellion, which has sparked fighting that has killed hundreds, driven oil prices to record highs and sparked clashes in several other Iraqi towns and cities.
"We are in the last hours. This evening, Iraqi forces will reach the doors of the shrine and control it and appeal to the Mehdi Army to throw down their weapons," he told reporters.
"If they do not, we will wipe them out."
Sadr aide Ali Smeisim told reporters in Najaf the Mehdi Army was willing to hold talks to end the fighting.
"We are ready to negotiate to put an end to the suffering," Ali Smeisim said in Najaf.
But another aide mocked Shalaan's threat -- the latest in a series of government ultimatums.
"Let him throw his warnings in the trash along with his previous statements about last chances in the last three weeks," Aws al-Khafaji told Al Jazeera television.
"This is a new night of holy jihad against tyrannical forces trying to attack our sanctities and honor," he said. "What will Shalaan tell himself if morning comes and the Mehdi army is still defending the holy shrine?"
The Iraqi advance was backed by U.S. aircraft which fired missiles and strafed militants dug in at a cemetery near the mosque, where most of the fighters have holed up during the three-week uprising in the city.
With fighting raging, U.S. tanks reinforced positions along the southern flank of the mosque. Black smoke rose from the area and automatic gunfire crackled.
MINISTERS TARGETED
In Baghdad, insurgents tried to assassinate Iraq's environment and education ministers in separate bombings that killed five of their bodyguards and wounded more than a dozen people, officials said.
Environment Minister Mishkat Moumin said she survived a suicide car bomb attack on her convoy in Baghdad. Education Minister Sami al-Mudhaffar was unhurt after a roadside bomb hit his convoy in the city, officials said.
A group linked to al Qaeda ally Abu Musab al-Zarqawi claimed responsibility for the attempt on Moumin and said it would not miss next time, according to an Internet statement.
The attacks were the latest attempts to kill officials in the government of Prime Minister Iyad Allawi, which took power from U.S.-led occupiers barely two months ago and faces crises on many fronts, especially in Najaf.
"Serving the Iraqi people is not a crime that deserves this," an outraged Moumin told Reuters after the blast.
The attack shocked local residents.
"I opened the door to leave for work and the blast knocked me over," said Ali al-Tai, standing in front of his home only yards from the blast site, victims' blood splattered on his shirt.
In July, Iraq's justice minister survived a suicide car bomb attack on his convoy in Baghdad. The then head of the Iraqi Governing Council, Izzedin Salim, was killed in May in a similar strike. Both of those attacks were claimed by Zarqawi.
IRAQI FORCES CLOSE IN
U.S. marines have done most of the fighting in Najaf. But any raid by U.S. troops on Iraq's holiest Shi'ite Muslim shrine could trigger mass protests from the majority Shi'ite community.
A rocket fired by militants clipped the wall of the gold-domed mosque on Tuesday and may have damaged the building, the U.S. military said. Both sides have accused each other of attacks near the shrine and of failing to respect holy ground.
Insurgents also attacked a truck and an ambulance taking aid to Najaf, killing two people and setting the vehicles on fire.
An Islamist group said it had seized an Italian journalist and gave Rome 48 hours to say it was pulling its troops from Iraq, Al Jazeera television said.
The Italian appeared alone on a video tape and identified himself as Enzo Baldoni, last heard from on Thursday. Rome said it would not give in to the threat.
Today's Top News
Top World News

Russian plane crashes, another said lost




Bank of China turns into joint stock firm




Action taken to prevent bird flu spreading




Eastern provinces prepare for typhoon




Guangdong to auction most of official cars




NPC to legalize online signatures