Labour shortage puzzles experts
(China Daily)
Updated: 2004-08-25 07:46
He Zhi, an employee with a toy factory in Dongguan, Guangdong Province, left for the Spring Festival for his hometown in Southwest China's Sichuan Province earlier this year. He was told by the factory to try to bring back with him some more migrant workers.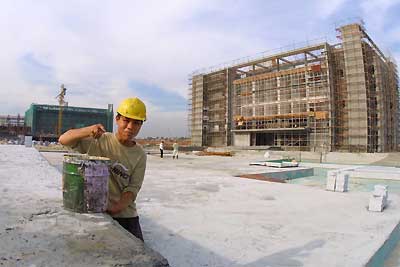 A worker carries a bucket at a construction site in Dongguan, Guangdong Province, on August 9. Companies in the province report a shortage of 105,000 migrant workers, according to an official survey. [newsphoto/file]
"We were told that a reward of 50 to 100 yuan (US$6-12) will be granted for each person we bring in," he recalled.
However, not many succeeded, including He.
"Three years ago my younger cousin admired me in having the chance to work here, but he is reluctant to come with me this winter when I met him," he said.
He gets no more than 900 yuan (US$108) a month after working for three years. He is not satisfied with his salary, though it has seen an increase in the past year. By staying in his hometown, he said he could earn about 500 (US$60) yuan per month according to the local salary standard. His younger cousin is studying in a local technology skills school after leaving junior middle school.
He's case is an example of the current shortage of migrant workers in Dongguan and other Pearl River Delta (PRD) regions.
Numerous factories involved in toy-making, furniture, shoes and clothes are desperate for skilled workers, especially during the peak order periods.
Advertisements inviting "both fresh and experienced" workers are posted by lots of enterprises in Dongguan.
Yet observing crowds of job seekers gathering around the wanted ads are becoming rare.
"Some labour-intensive manufacturers are losing their appeal to workers because of their poor working conditions and low welfare on offer," said Song, an official with the Guangzhou Labour Market, who declined to give his full name.
"Many Taiwan investors have complained about the few choices for good workers," Lai Wenfeng, a researcher specializing in Taiwan economic issues with Guangzhou-based Jinan University, told China Daily.
Dongguan, a star city in attracting Taiwan investors, is home to over 4,000 Taiwan enterprises since 2000.
Citing a report from the policy research office of the provincial government, local media claims Dongguan has encountered severe shortages in recruiting new workers.
The report is reportedly a co-operated paper carried out by the policy research office and the local labour administration in Dongguan.
According to the report, it is estimated the shortage of migrant workers numbers 2 million in the Pearl River Delta region. Dongguan alone makes up half that figure.
Guangdong labour authority later denied the existence of a huge labour shortage in the province, but did acknowledge a lack of skilled workers in some companies.
Wang Guanyu, director with the Guangdong Labour and Employment Service Centre, told a press conference on August 11 that the labour shortage is not a "general phenomenon."
"Only some enterprises are short of advanced skilled workers in the Pearl River Delta region," said Wang.
He said the labour officials recently conducted an investigation among 306 enterprises in eight cities before making the conclusion.
He admitted that some working positions with poor conditions and low income are "true."
The investigation revealed 128 out of the 306 enterprises are short of skilled labourers, which are estimated to be about 18,000 workers in total.
Some 166 more enterprises are, as surveyed, in great need of 87,000 migrant workers.
Industrial transfer
"Labour is the most active part in all production essentials, which directly reflects a certain economic momentum," said Lai.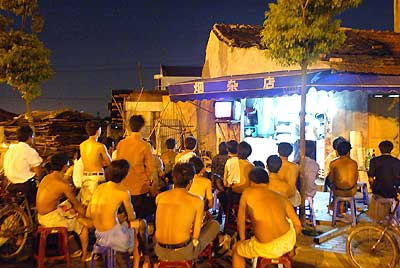 Migrant workers watch TV in Ningbo, Zhejiang Province. Companies are urged to take good care of the welfare of migrant workers to retain a stable labour force. [newsphoto/file]
He said the disputed shortage of workers in the PRD is a sign of the on-going industrial transfer.
China encourages overseas investors to go beyond the traditional hot investing destinations in coastal areas and probe the vast interior.
"Some local governments are making preferential policies to lure investors," Lai said.
It helps investors go further into inland areas, and facilitate the involvement of the local labourers, to whom, travelling far away from their hometown is no longer the only option to find a position in modern companies.
The adoption of the "9-2", the largest economic circle covering nine provinces and the two special administrative regions (SARs), Hong Kong and Macao, also requires the upgrade of current industrial construction practices, Lai added.
Labour authorities from the nine provinces and the two SARs have reached consensus in June during the second joint conference held in Hong Kong, Macao and Guangzhou. Under the agreement, labour flow is to be well-organized with the involvement of the government.
"For example, Southwest China's Sichuan Province and South China's Guangxi Zhuang Autonomous Region, the major migrant suppliers to Guangdong, are eager for the moving of the labour-intensive industries to their side," Lai said.
Cheng Jiansan, a researcher with Guangdong Provincial Academy of Social Sciences, admitted the shortage has long existed for about 500,000 highly-skilled workers in the PRD, but the shortage of manual workers has emerged over the past two years.
"The total supply is sufficient in general, but the problem is worker flow," said Cheng in an interview with China Daily.
He emphasized that 90 per cent of migrant workers are imported blindly, following friends with experience to the job sites.
"Government and related authorities, witnessing the great inflow and outflow of the labourers, have done very little organized work," said Cheng.
According to Cheng's five-year-study, about 50 per cent of the migrant workers he interviewed expressed their willingness to move to another place or go back home to work.
Cheng suggested labour imports and the exports collaborate on worker flows and skill training tasks.
"If it has organized measures, the supply would be stable and sustainable," he said.
Another reason behind the shortage, according to Cheng, is the reformed agricultural policy, which helps ensure farmers are employed locally.
China's agricultural tax is expected to be removed step by step in the next five years.
Furthermore, salary offerings for a migrant worker in the coastal area has lost its appeal.
Although the provincial minimum wage is set at 574 yuan (US$69) per month starting this March, under a revised regulation issued by the Ministry of Labour and Social Securities, some enterprises in Donguan offer only 450 yuan (US$54) to those new workers.
While Zhao Qiong, an expert on enterprise responsibility study with Guangdong ASS, shares a different opinion towards the shortage issue.
She argued the large-scale transnational corporations can hold on to staff thanks to their higher awareness of enterprise responsibility and employees' personal value.
However, many of the labour-intensive enterprises are short-sighted, preferring instant profit over retaining staff in the long term.
"Machines are more valuable than labourers in such enterprises," said Zhao, who contributed the decrease of the workers to their poor working conditions and security guarantee.
Others said China's family-planning policy adopted since the end of the 1970s is to blame for the labour shortage .
The age of workers most sought is 18 to 25, who were born after the family planning policy was carried out in late 1970s.
Today's Top News
Top China News

Russian plane crashes, another said lost




Bank of China turns into joint stock firm




Action taken to prevent bird flu spreading




Eastern provinces prepare for typhoon




Guangdong to auction most of official cars




NPC to legalize online signatures