Cargo ship seized with smuggled vehicles
By Hu Meidong and Ma Zhijuan (China Daily)
Updated: 2004-08-25 01:01
A cargo ship carrying 80 cars was impounded by Mawei Customs Office of city of Fuzhou on Monday, suspected of smuggling second-hand vehicles.
The cars of brand name like Mercedes Benz and Toyota were cut into two pieces. They were found in nine containers when the ship was unloaded in the afternoon. Official seals stuck on the containers proved to be falsified.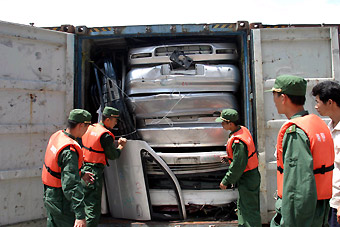 Coastal police and customs officers open a container full of second-hand cars, on Monday in Mawei, East China's Fujian Province. Coastal police intercepted a ship carrying nine such containers, which were found to have 80 second-hand cars. The cars were being smuggled from some where into the country. The case is under investigation. [newsphoto]


According to officials with Mawei Customs, the goods were shipped from waters near the Philippines.

Fake documents were made showing that the freighter set off from the Haikou port to Mawei Port.

The ship was intercepted by sea patrols of Fujian Public Security on Saturday night.

At 7 pm that night, police learned of possible smuggling around Minjiang River.

At about 8 pm a steel-made cargo ship was spotted. It refused inspection and continued to move after being signalled by police.

Police surrounded the ship and forced it to stop.

A crack was jimmied on one container where cars were soon found inside.

The ship was then held until Monday when Mawei Customs took over the inspection.

There were more than ten people on the ship, most residents of Lianjiang County of Fujian Province.

The freighter, registered in the city of Wuhan, was allowed operation only on domestic routes. Both the suspects and the ship have been seized.

"Import of second hand vehicles is forbidden in China," customs officer said.




Today's Top News
Top China News

Bank of China turns into joint stock firm




Eastern provinces prepare for typhoon




Action taken to prevent bird flu spreading




NPC to legalize online signatures




Education expo lures students




Cargo ship seized with smuggled vehicles