Eastern provinces prepare for typhoon
By Bao Daozu (China Daily)
Updated: 2004-08-25 00:00
The eye of typhoon Aere will move northwestward after sweeping past a sea area off Taipei and will hit East China coastal areas between Tuesday night and Wednesday morning.
The Ministry of Civil Affairs issued emergency typhoon warnings to East China's Fujian, Zhejiang and Jiangxi provinces Tuesday.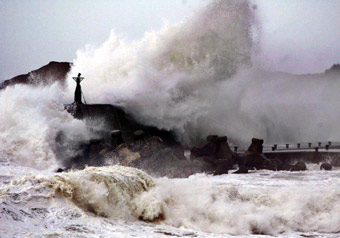 Typhoon Aere strikes the coast of northern Taiwan Province Tuesday, causing power cuts and affecting the lives of many local residents. [newsphoto]


The ministry also sent rescue teams to Fujian and Zhejiang provinces to supervise and guide front-line rescue work.

The provincial government of Zhejiang Province, which was lashed by typhoon Rananim two weeks ago, has called on all sectors to work together to withstand the latest weather threat.

The reconstruction work of many dyke walls collapsed during the last attack.

Due to its coinciding with the spring tide, the typhoon would bring the surface wind along the Qiantang River to force 5 to 6, strong enough to pose a danger to ships, said local meteorological reports.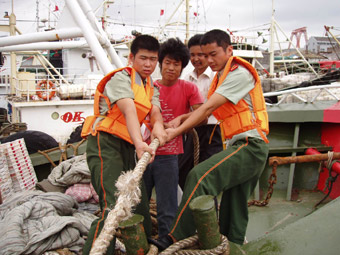 Across the Taiwan Straits, people in Taizhou, Zhejiang Province, fasten their boats Tuesday at harbours in anticipation of the coming typhoon. [newsphoto]


Pan Jinsong, a senior official at the Zhejiang Meteorological Observatory said this typhoon is possibly weaker than Rananim, which was blamed for 164 deaths and damages totalling 18.128 billion yuan (US$2.18 billion).

However, typhoon Chaba, the 17th typhoon of the year that skipped past Guam and curved northwards, and typhoon Aere may have affected each other, which makes the accurate predictions difficult, Pan added.

In Fujian Province, residents in Ningde, Fuzhou and Quanzhou cities were warned to be alert to possible earthquake caused by the typhoon.

Heavy to torrential rains are expected in most parts of the province, and ships have been called back to harbour.

Typhoon Aere pounded northern Taiwan with torrential rains and powerful winds Tuesday, causing widespread disruption to air and sea transport.

Financial markets, public offices and schools were closed in most cities and counties in northern, central and northeastern parts of the island.

A jetliner carrying 100 passengers slid off the runway while landing in strong wind and heavy rain Tuesday morning. Nobody was injured.

According to local media, power was cut off in more than 20,000 homes.

Hong Kong radio stations reported Tuesday that the typhoon has left two people dead and three others missing.

Aere, which means storm in the language of the Marshall Islands in the Pacific Ocean, is the 18th Typhoon of the year.




Today's Top News
Top China News

Bank of China turns into joint stock firm




Two Russian passenger jets confirmed crashed




Action taken to prevent bird flu spreading




Eastern provinces prepare for typhoon




Report: Abu Ghraib was 'Animal House'




Guangdong to auction most of official cars