Pentagon leaders faulted in prisoner abuse - officials
(Agencies)
Updated: 2004-08-24 22:23
A high-level panel investigating U.S. military detention operations has concluded that top Pentagon officials and the military command in Iraq contributed to an environment in which detainees were abused at Abu Ghraib prison in Iraq, a defense official said on Tuesday.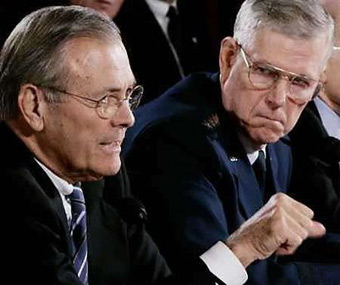 An independent Pentagon panel found that Defense Secretary Donald Rumsfeld and the Joint Chiefs of Staff failed to exercise proper oversight over confusing detention policies at U.S. prisons in Iraq, Afghanistan and Cuba, a defense official said August 23, 2004. Rumsfeld (L) and Chairman of the Joint Chiefs of Staff U.S. Air Force Gen. Richard B. Myers testify on Capitol Hill, Aug. 17. [Reuters]


The independent Pentagon panel headed by former Defense Secretary James Schlesinger found that Defense Secretary Donald Rumsfeld and the Joint Chiefs of Staff failed to exercise proper oversight over confusing detention policies at U.S. prisons in Iraq, Afghanistan and Cuba, the official said.

But the official, who asked not to be identified, stressed that the four-member group, scheduled to release its report on Tuesday, did not conclude that Rumsfeld or military leaders directly ordered abuse such as stripping prisoners naked and sexually humiliating them in a scandal that has drawn international condemnation.

The official confirmed a report in the New York Times on the Schlesinger panel's findings that also said it concluded that the military's Joint Staff at the Pentagon - which is responsible for allocating forces - did not recognize that Abu Ghraib guards were overwhelmed by an influx of detainees during violence in Iraq.

The Times said the report also criticizes the top general in Iraq at the time, Army Lt. Gen. Ricardo Sanchez, for not paying close enough attention to the problems at Abu Ghraib.

NBC News also reported on Monday night that the Schlesinger report criticized the shortage of guards to handle the growing prison population at Abu Ghraib last year, and held top commanders responsible for disorganization in the command structure at the prison that led to wrongdoing.

SEVEN TROOPS ALREADY CHARGED

Reed Brody, a spokesman for Human Rights Watch, said the report did not go far enough. "They are talking about management failures when they should be talking about who in the Pentagon and the military command ordered, approved or tolerated the torture of detainees."

"The report does not seem to examine the relationship between Secretary Rumsfeld's approval of interrogation techniques designed to inflict pain and humiliation and the widespread abuse of detainees in Iraq, Afghanistan and Guantanamo," Brody said.

Seven U.S. Army reservists from the 372nd Military Police Company have already been accused of humiliating and in some cases beating and photographing Iraqi detainees at the infamous prison near Baghdad, once used as a torture chamber by former Iraqi President Saddam Hussein.

Another Army investigation report to be released on Wednesday will recommend that 20 or more military intelligence troops and others at Abu Ghraib face administrative or perhaps criminal punishment in the scandal that has infuriated the Arab world.

The Schlesinger panel, named by Rumsfeld to look into the abuse and how effectively the Pentagon is addressing the problem with a number of investigations, also includes former Defense Secretary Harold Brown, former Florida Republican Rep. Tillie Fowler and retired Air Force Gen. Charles Horner, who led the allied air campaign in the 1991 Gulf War.

The Times reported that the panel interviewed Rumsfeld, Deputy Defense Secretary Paul Wolfowitz and Air Force Gen. Richard Myers, chairman of the Pentagon's military Joint Chiefs of Staff, during its investigation.

The newspaper said that the Schlesinger panel criticized the leadership of Army Brig. Gen. Janis Karpinski, commander of the 800th Military Police Brigade at Abu Ghraib. She was also criticized in an earlier abuse investigation headed by Army Maj. Gen. Antonio Taguba.

Karpinski has received a letter of reprimand and been suspended from her post. She is protesting that suspension.

Rumsfeld and other top defense officials have promised to leave no stone unturned in several investigations into the U.S. abuse of prisoners in Iraq and Afghanistan.

Gen. John Abizaid, head of the U.S. Central Command, and Sanchez told Congress in earlier testimony that they did not find out about the Abu Ghraib abuse until early this year when a military policeman revealed the problem at the prison.




Today's Top News
Top World News

China to squeeze credit to curb inflation




Zeng: Pay all owed wages to migrant workers




China cancels 4,800 development zones




Yao lifts China into Olympic quarter-finals




Law to protect HB virus carriers




Ministry denies pig's bird flu infection