Iraqi guardsmen ring Najaf shrine
(Agencies)
Updated: 2004-08-24 21:29
U.S. and Iraqi forces battled militants in Najaf on Tuesday and Iraqi National Guardsmen advanced to within 200 yards of the holy city's Imam Ali Shrine compound, where insurgents loyal to radical cleric Muqtada al-Sadr have been holed up for weeks.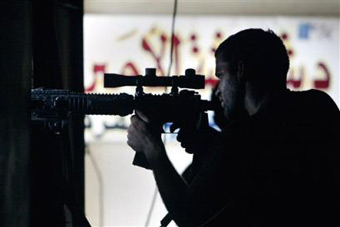 A U.S. Army sniper takes a position behind a wall in central Najaf, Iraq, Tuesday, Aug. 24, 2004, a few hundred yards from the Shrine of Imam Ali. [AP]


However, a raid on the shrine would not be likely in the coming hours, Iraqi Defense Minister Hazem Shaalan told Al-Arabiya television.

Meanwhile, in Baghdad, attackers bombed the convoys of two government ministers in separate attacks that killed five people but left the ministers unharmed, officials said.

Many militants have fled the Najaf shrine and the surrounding area over the last few days as nearly three weeks of fighting has intensified, witnesses said.

On Tuesday, Iraqi forces accompanied U.S. troops into the Old City for the first time in recent days. Clashes between militants and the combined U.S. and Iraqi forces sent the crackle of gunfire ringing through the streets as plumes of black smoke rose above the city.

"Today, they complete the operation of encircling the shrine compound," Shaalan said.

Iraqi officials have said that any raid on the shrine would be conducted by Iraqi forces. The presence of U.S. troops at the holy site would infuriate the nation's Shiite majority and could spark a far wider rebellion against the interim government.

Fears that the violence could spread outside Iraq (news - web sites) have led some of its neighbors to call for international intervention to resolve the Najaf crisis — a call Foreign Minister Hoshyar Zebari rejected out of hand.

"Iraq will not support or participate in any attempt to internationalize this issue because it is between the legal government and outlaws who threaten the security of the state and the general order," he said Tuesday.

Shalaan said Iraqi troops in Najaf will use loudspeakers to urge militants to evacuate the shrine. These calls will continue "for a long time to give another humanitarian chance for them to surrender," Shaalan said.

"If they don't ... listen to reason, then certainly there will be a very simple operation, a very simple raid," he said. "The decisive hours are near."

In other violence, assailants fired a rocket-propelled grenade at a U.S. patrol on Monday night, killing one soldier and wounding two others, the military said. The troops were evacuated to a U.S. military hospital, where one of the soldiers succumbed to his wounds.

As of Monday, 958 U.S. service members have died since the beginning of military operations in Iraq in March 2003, according to the U.S. Defense Department.

In the attacks Tuesday on government ministers, a car bomb exploded in the southern Baghdad neighborhood of Qadisiyah as Environment Minister Miskhat Moumin was passing through in a convoy, ministry spokeswoman Dalal Ali said. Moumin escaped unharmed.

Four bodyguards were killed in that blast, said a police brigadier speaking on condition of anonymity. Officials at Baghdad's Yarmouk hospital said at least two other people were injured. Interior Minister spokesman Col. Adnan Abdul-Rahman said a suicide bomber was also killed.

In a second attack, around the same time in the western Baghdad district of al-Khadra, a roadside bomb exploded beside Education Minister Sami Mudhafar's convoy, killing one of his bodyguards and wounding two others, police said.

The minister, en route to work at the time, was not injured, a bodyguard said, speaking on condition of anonymity.

Late Monday, U.S. warplanes bombed the area of Najaf's Old City, and fires lit up the night sky, witnesses said. Ahmed al-Shaibany, an aide to al-Sadr, said shrapnel from the attack hit the shrine's golden dome, one of its minarets and the compound's outer wall.

The U.S. military denied damaging the shrine; it said an air crew saw militants in the compound fire a rocket that clipped one of the walls and exploded 10 yards outside.

"We are not doing anything that could have caused damage to the shrine," Marine Capt. Carrie Batson said.

There was no independent confirmation of damage to the shrine, but violence earlier Monday ripped a chunk out of the outer wall of the compound. Explosions throughout the day shook Najaf's Old City, a mix of streets and narrow, maze-like alleys at the heart of much of the fighting. Militant medical officials said at least two insurgents were killed and four wounded.

Al-Hakim Hospital said two civilians were killed and two others injured, but more casualties were reported in the Old City and could not be reached by emergency workers, said hospital employee Hussein Hadi on Monday.

Al-Sadr, whose Mahdi Army fighters are behind the uprising, has not been seen in public for many days, and police drove around Najaf with loudspeakers declaring he had fled toward Sulaymaniyah in northern Iraq. Al-Sadr's aides denied that.

"Muqtada al-Sadr is still in Najaf and is still supervising the operations," Sheik Aws al-Khafaji, the head of al-Sadr's office in the southern city of Nasiriyah, told Al-Jazeera television.

U.S. warplanes also reportedly struck the volatile city of Fallujah early Tuesday. Witnesses said it was unclear what the target was, but they reported flames and smoke in southern neighborhoods.

The U.S. military, which routinely bombs what it describes as insurgent strongholds in the city 40 miles west of Baghdad, had no immediate comment.

The Najaf fighting, which began Aug. 5, has killed at least 40 Iraqi policemen, eight U.S. soldiers and dozens of civilian bystanders. The U.S. military says it has killed hundreds of al-Sadr fighters, though the militia says its casualties have been far lower.

In Washington, U.S. State Department spokesman Adam Ereli said, "The government of Iraq and Prime Minister (Ayad) Allawi have said that the Mahdi militia should accept their terms for engaging in the political process and vacating the shrine."

He added that the Bush administration has made clear that U.S. forces will not be involved in a move against the holy sites.




Today's Top News
Top World News

China to squeeze credit to curb inflation




Zeng: Pay all owed wages to migrant workers




China cancels 4,800 development zones




Yao lifts China into Olympic quarter-finals




Law to protect HB virus carriers




Ministry denies pig's bird flu infection