Table tennis doubles may be dumped in 2008
By Xiao Yu (China Daily)
Updated: 2004-08-24 06:22
In an effort to stop China from winning so many table tennis gold medals and make the sport more of a crowd pleaser, the sport's governing body wants to drop the doubles from the 2008 Beijing Olympics.
The International Table Tennis Federation (ITTF) plans to replace the pairs with a team event.
"We have submitted an official proposal to the IOC regarding changes to be made," ITTF president Adham Sharara said yesterday.
"A decision is expected in 2005 and we are optimistic that it will be a positive one, provided the number of players and judges doesn't change."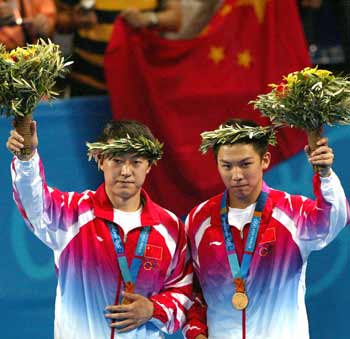 Gold medallists Chen Qi and Ma Lin from China wave from the podium after the medal ceremony for the men's doubles table tennis at the Athens 2004 Olympic Games August 21, 2004. Chen Qi and Ma Lin defeated Ko Lai Chak and Li Ching of Chinese Hong Kong 4-2 to win the gold. [Reuters/file]


China has won 16 of the 20 gold medals at the last five Olympics, including Athens, but there are concerns their domination is unhealthy for the sport.

The Chinese invariably win two medals in most events, so a new rule change at the Athens Olympics prevented players from the same ITTF member meeting in the final.

Under the proposed rule change for the 2008 Games, China's medal count will be reduced because countries will only be allowed to enter one team.

Sharara denied the changes were designed to stop China from winning, but conceded that countries and regions needed to catch up with the nation.

To increase spectator interest, table tennis games have been cut to first-to-11 from first-to-21, service rules have been improved and the ball has been increased in size over the past four years.

The Chinese paddlers still remain the biggest winners at the Athens Games, walking away with three out of four gold medals amid a huge challenge which cost it the coveted men's singles title.

The Chinese paddlers proved that they are still the world's best, with Zhang Yining/Wang Nan, Zhang Yining and Ma Lin/Chen Qi easily winning the women's doubles, women's singles and men's doubles. They even did not drop a set in the four finals against their different rivals.

The only pain came from the men's singles - an emotional third seed Ryu Seung-min of South Korea spoiled China's third straight gold medal sweep which dates back to 1996 Atlanta Games, outclassing China's Asian champion Wang Hao 4-2 in a thrilling 45-minute final.




Today's Top News
Top Sports News

Vice-premier: Pay all owed wages to migrant workers




China cancels 4,800 development zones




Yao lifts China into Olympic quarter-finals




Law to protect HB virus carriers




Games stadium redesign may save US$336m




Ministry denies pig's bird flu infection