IOC strips gold from Russian shot putter
(Agencies)
Updated: 2004-08-24 06:22
Russia's Irina Korzhanenko was stripped of her shot put gold medal yesterday, the first athlete of the Athens Games to lose an Olympic title because of doping.
Korzhanenko, the first woman to win a gold medal at the sacred site of Ancient Olympia, tested positive for the steroid stanozolol after Wednesday's competition. The backup B sample confirmed the initial finding.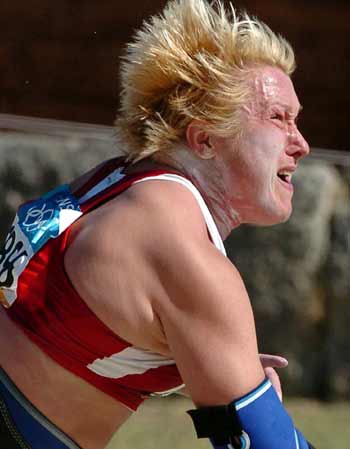 Russian Olympic shot put champion Irina Korzhanenko will lose her gold medal after testing positive for a banned steroid, the head of the Russian Olympic Committee's anti-doping body said on Sunday.[Xinhua]


The International Olympic Committee executive board expelled Korzhanenko from the games and ordered the Russian Olympic Committee to return the medal.

The gold went to Cuba's Yumileidi Cumba Jay. Germany's Nadine Kleinert moved to silver, and Russia's Svetlana Krivelyova to bronze.

Members of the Russian Olympic Committee met to discuss the IOC decision and to decide when Korzhanenko would return to Moscow.

Korzhanenko, who served a previous two-year drug suspension, faces a lifetime ban from the sport. In 1999, she was stripped of the silver medal at the world indoor championships for a doping violation and was given a two-year suspension that kept her out of the 2000 Sydney Olympics.

Under international rules, two steroid violations warrants a lifetime ban.

The IOC decision came a day after Greek weightlifter Leonidas Sampanis became the first athlete of the Athens Games to be stripped of a medal for a doping offense. Sampanis lost his bronze medal in the 62-kg category after testing positive for testosterone.

The shot put was held at Ancient Olympia, about 200 miles southwest of Athens, two days before the start of track and field in Olympic Stadium. It was the first time women have competed at the site; the ancient Olympics were for men only.

Korzhanenko won with a throw of 21.06 metres - the first throw more than 21 meters in four years.

Another female shot putter, Uzbekistan's Olga Shchukina, tested positive in a pre-event screening for the steroid clenbuterol. She finished 19th and last in her qualifying group and was expelled from the games on Friday.

So far, nine weightlifters have failed drug tests. A Kenyan boxer was also sent home for using drugs. With six days left in the games, including track and field events, more positives were likely.




Today's Top News
Top Sports News

Vice-premier: Pay all owed wages to migrant workers




China cancels 4,800 development zones




Yao lifts China into Olympic quarter-finals




Law to protect HB virus carriers




Games stadium redesign may save US$336m




Ministry denies pig's bird flu infection