Israel plans 530 settler homes, US acquiesces
(Agencies)
Updated: 2004-08-24 08:37
Israel plans to build 530 new settler homes in the occupied West Bank after Washington softened its opposition to growth in Jewish enclaves, a policy shift Palestinians say will make peace impossible.
Israeli political sources said Monday the construction, together with tenders for 1,000 other homes approved last week by Prime Minister Ariel Sharon, would mainly affect settlements near Jerusalem and be in full swing by the end of 2004.
In a separate development, Defense Minister Shaul Mofaz approved a new route for a key section of Israel's West Bank barrier, narrowing under Israeli court order the scope of land expropriation for a project deemed illegal by the World Court.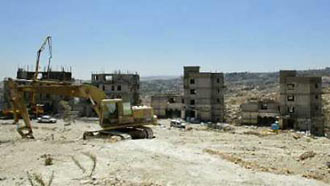 A bulldozer at a construction site at the Jewish settlement Har Homa in East Jerusalem, August 23, 2004. [Reuters]


At Har Gilo, six earthmovers were hard at work carving up a rocky hill crest beyond the last line of houses in the settlement sandwiched between two Palestinian villages south of Jerusalem. Officials said about 200 homes would be built there.

Some in the construction crews were local Palestinians desperate for work almost four years into an economically disastrous revolt against Israel waged by militant factions.

"No one in the world listens to our grievances anyway," bulldozer operator Jirie Sarras, from the adjacent village of Beit Jala, said of the decades-old Jewish settlement drive.

"If I don't work here, someone else will. I need the money. In the end the result will be the same anyway. I have to go back to work now," he added, returning to his earthmover.

Palestinians condemned the settlement growth plan, saying U.S. relaxation of a policy against settlement construction would wreck chances of reviving Middle East peacemaking.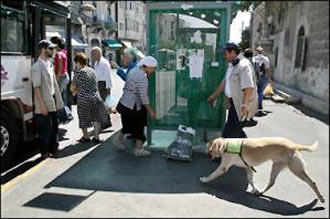 A dog sniffs bags at a bus stop in Jerusalem in search for possible explosives and suicide bombers. [AFP]


"If Israel does not stop this expansionist policy, we will not be able to find enough space to establish our state on," Palestinian Negotiations Minister Saeb Erekat told Reuters.

U.S. SHIFT

Washington signaled Saturday it could accept building within existing construction lines of settlements that have spread on territory Israel captured in the 1967 Middle East war.

It had earlier insisted on a construction freeze under an international "road map" peace plan. But persistent violence on both sides has ridden roughshod over the year-old blueprint.

Sharon has since drawn up a unilateral plan to withdraw from Gaza, where 8,000 settlers live in heavily guarded settlements alongside 1.3 million Palestinians, and Washington is apparently trying to help him face down internal far-right opposition.

But Sharon's plan for "disengaging" from conflict with the Palestinians also entails Israel cementing its grip on West Bank areas where the vast majority of the 240,000 settlers live.

U.S. President Bush is seen as inclined to accept some building in settlements now to avoid offending Jewish-American voters who favor settlements, and conservative Christian supporters of Israel as he fights for re-election in November.

Israeli officials said the new construction drive was still subject to final government approval. But a political source said that would only be a formality.

The cabinet will also have final say on Mofaz's approval of the new barrier route in the central West Bank. The project, which has separated thousands of Palestinians from schools, hospitals and farmland, led the High Court in June to order the government to ease Palestinian hardship.

The new route will fence in 3,750 acres of land between the central West Bank and Israel instead of a planned 8,500 acres, the officials said.

Israel says the planned 360-mile-long barrier, of which some 120 miles have been built, is aimed at stopping Palestinian suicide bombers.

Palestinians call it a land grab. The United Nations has estimated some 12,000 Palestinians could find themselves on the barrier's "Israeli side" when it is complete.




Today's Top News
Top World News

Vice-premier: Pay all owed wages to migrant workers




China cancels 4,800 development zones




Yao lifts China into Olympic quarter-finals




Law to protect HB virus carriers




Games stadium redesign may save US$336m




Ministry denies pig's bird flu infection