Yao lifts China into Olympic quarter-finals
(Agencies)
Updated: 2004-08-24 07:22
Yao Ming scored 27 points and pulled down 13 rebounds to lead China past world champion Serbia and Montenegro 67-66 here, advancing China into the Olympic men's basketball quarter-finals.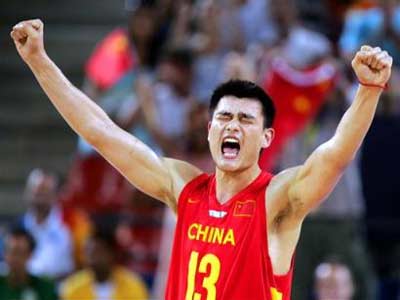 China's Yao Ming of the NBA's Houston Rockets celebrates as they beat Serbia and Montenegro 67-66 to advance to quarter finals. [AP]
The stunning victory ensures the Chinese team of no worse than matching their best Olympic finish, eighth at the 1996 Games, and puts them into Thursday's quarter-finals, where a victory would put them into the medal round.
"Today is a day of great joy for us," Yao said. "I feel the generation before us made a great contribution. They did a great thing. Today we have done the same.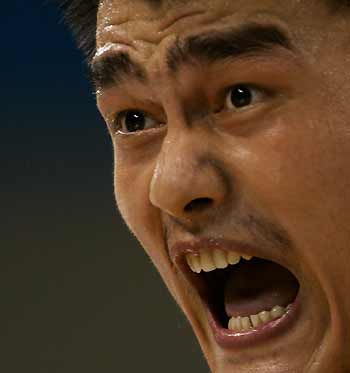 China's Yao Ming reacts after finishing the basketball game against Serbia and Montenegro's at the Athens 2004 Olympics, August 23, 2004. China won the game 67-66. [Reuters]


"What we have achieved is a treasure for future generations of Chinese players. What we have done is for the team, the fruit of our labors. These games have made us realize a lot deep within us."

China will join unbeaten Spain, Argentina and Italy from Group A while Group B sends unbeaten Lithuania, Puerto Rico, Greece and the United States team of National Basketball Association stars in Thursday's quarter-finals.

Exact pairings will be decided by the results of later games.

Chinese players praised coach Del Harris, an NBA assistant at Dallas who inspired them to stun a Serbian squad that beat them in a pre-Olympic exhibition.

"He gave us a great lesson, a lesson of life - we should never give up, no matter what, and do our best," Yao said.

Yao, a 2.26m (7ft 6in) center for the NBA Houston Rockets, sank two pressure-packed free throws with 28 seconds remaining to give China a 65-63 lead.

Serbian Dejan Bodiroga attempted a winning 3-pointer over Yao in the final seconds but misfired and China took possession.

The Serbs were forced to foul and Du Feng, who had 12 points, made two clutch free throws with 3.2 seconds remaining to lift China's lead to 67-63.

China needed every point. Predrag Drobnjak, who led Serbia with 17 poinjts, sank a 3-pointer at the final buzzer, but all he did was trim the final margin.

"The Olympics is a stage for miracles," Chinese captain Li Nan said. "I hope what we have achieved leads us to greater victories in the days to come.

"What we have achieved is a miracle."

Vlado Scepanovic hit back-to-back 3-pointers to give Serbia a 60-53 lead. China's Zhu Fangyu scored the next four points but NBA center Predrag Drobnjak hit another 3-pointer and the Serbians led 63-57.

Liu Wen's jumper with 2:24 to play pulled China within 63-61 and Yao lifted China into a tie with two free throws.

Yao, who vowed not to shave for six months if China failed to reach the quarter-finals, took the team upon his shoulders in the third quarter and made sure to keep his chin smooth when the next NBA season begins.

The Chinese star battled double-teams for every rebound, and found unguarded teammates and directed them into prime positions on the court.

His work paid off with a 14-4 run that lifted China ahead 49-47 later in the third quarter. Yao scored five points in the run but set up most of the rest with stellar inside play against Serbian center Predrag Drobnjak, an NBA rival.

But the Serbians ended the quarter with a 7-2 run, Dejan Tomasevic sinking a rebound shot at the buzzer to give his team a 54-51 edge entering the fourth quarter.

Yao scored 13 points in the first half and Chinese captain Li Nan added 12 as the Asian champions kept the pressure on the Serbs, who led only 34-31 at half-time.




Today's Top News
Top Sports News

Vice-premier: Pay all owed wages to migrant workers




China cancels 4,800 development zones




Yao lifts China into Olympic quarter-finals




Law to protect HB virus carriers




Games stadium redesign may save US$336m




Ministry denies pig's bird flu infection