Judge urges US to speed Abu Ghraib case
(Agencies)
Updated: 2004-08-24 01:49
A military judge hearing evidence in the alleged abuse of prisoners at Iraq's Abu Ghraib prison demanded Monday that prosecutors speed up the investigation, warning that further delay could derail the case against at least one of the accused soldiers.
Col. James Pohl expressed displeasure after being told a lone Army criminal investigator was reviewing thousands of pages of records contained in a secret computer server at Abu Ghraib.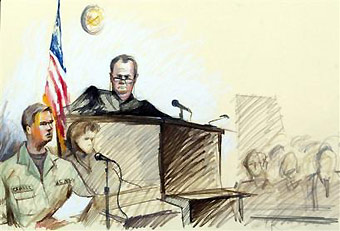 A courtroom drawing shows Spc. Charles Graner, left, and Judge Col. James L. Pohl, right, at the U.S. military court at Taylor Barracks in Mannheim, southern Germany, Monday, Aug. 23, 2004. Graner, a key suspect in the abuse of Iraqi prisoners at Abu Ghraib prison, voiced fear he was being made a scapegoat when he was asked to turn over a laptop computer and other evidence suspected of containing photos of the maltreatment, an investigator told a U.S. military court Monday. [AP]


Turning to the military prosecutor, Pohl said he wanted a report on the server inquiry available by Dec. 1. But he then added that he would "seriously revisit" a defense motion to dismiss the case against Spc. Charles Graner if there was no sign of progress.

"The government has to figure out what they want to do with the prosecution of this case," the judge said testily.

Meanwhile, another of the accused soldiers, Staff Sgt. Ivan "Chip" Frederick, said Monday that he will plead guilty to some offenses.

Frederick, of the Maryland-based 372nd Military Police Company, said in a statement given to The Associated Press in Hagerstown, Md., that he accepts responsibility for his actions and that he broke the law. He did not specify the charges to which he will plead guilty. He is charged maltreating detainees, conspiracy to maltreat detainees, dereliction of duty and wrongfully committing an indecent act.

He has a pretrial hearing scheduled for Tuesday in Mannheim.

Graner, alleged in previous testimony to have been the ringleader in the abuse at Abu Ghraib, had his case heard for several hours Monday — the first of four U.S. soldiers facing hearings at a U.S. military base in Mannheim this week.

Pohl, the judge, issued a Sept. 10 target for the government to complete three investigative reports so they can be used as evidence.

The three reports include one conducted by U.S. Army Maj. Gen. George R. Fay that examined the role of military intelligence, including the 205th Military Intelligence Brigade, the unit that was in control of interrogations at Abu Ghraib. That report had been expected to be finished in July.

The U.S. Navy's inspector general is due to report on practices at detention centers in Iraq, Afghanistan and Guantanamo Bay. A Pentagon-appointed panel led by former Defense Secretary James Schlesinger is due to review previous reports and suggest further areas that should be investigated.

Pohl is holding preliminary hearings at Mannheim before returning the proceedings to Baghdad.

Pohl rejected a defense request to bar anything found on Graner's laptop as evidence, after the defense suggested Graner had been too tired to make a clear decision about his rights when he allowed investigators to take the laptop and CDs from his quarters at the prison in January.

But the judge said the point could be revisited later once it became clear what exactly was on the computer. He granted a motion to suppress a statement by Graner that "everything you want is in my computer."

Wearing desert fatigues, Graner appeared calm and listened intently to the proceedings. When he testified, he said he had little choice but to agree when investigators confronted him with the search request in the middle of the night Jan. 14.

Graner, 35, said he had been in Iraq for months on an extremely stressful assignment, when he was awakened after no more than 90 minutes of sleep and was told by an Army investigating agent, Manora Iem, that he could not return to his quarters until it had been searched. Graner said he finally signed the search order because he thought it was a "done deal" anyway.

"Special Agent Iem said it would look favorable if anything derogatory was found, my quarters were going to be searched anyway, so I just signed it," he testified.

Iem testified that Graner appeared to understand his rights. "He was alert, he was very cooperative," but feared he was being made a scapegoat, Iem said.

When computer specialists looked at the laptop and 11 CDs found in the search, they discovered "numerous, dozens of pictures related to the investigation," another investigating agent, Tyler Pieron, testified.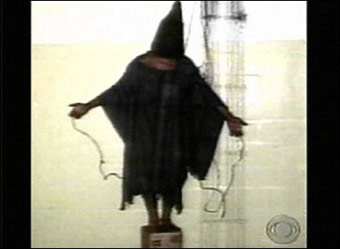 A hooded Iraqi prisoner with wires attached to his hands is forced to stand on a box at the Abu Ghraib prison. [AFP]


Graner's civilian lawyer, Guy Womack, maintained his client was simply doing what he was ordered by superiors. Graner and others questioned their command, "but they were consistently told to follow those orders," Womack told reporters outside the courtroom.

The Abu Ghraib scandal broke in April when photographs of hooded and naked prisoners were made public, touching off furious international criticism.

Graner, of Unionstown, Pa., became known worldwide from the picture of him posing for the camera with his thumbs up behind a pile of naked prisoners.

He has been accused of jumping on prisoners as they lay on the ground, stomping on the hands and bare feet of several prisoners, and punching an inmate in the temple so hard he lost consciousness.

Additionally, he faces adultery charges for having sex with Pfc. Lynndie England, who is now pregnant with his child and is facing a pretrial hearing on Abu Ghraib-related charges at Fort Bragg, N.C. Adultery is a crime under the U.S. military code.

Graner risks the harshest sentence of the four who have hearings this week: up to 24 1/2 years in prison, forfeiture of pay, reduction of rank and a dishonorable discharge.

The four soldiers are among seven charged with abuse at Abu Ghraib. One of the seven, Spc. Jeremy C. Sivits, pleaded guilty May 19 and was sentenced to a year in prison. All were in Iraq as members of the 372nd Military Police Company, a reserve unit based in Cresaptown, Md.

Later Monday, Pohl cut short a hearing for Spc. Megan Ambuhl of Centreville, Va., because it emerged that some of the abuse-related charges against her were filed after her Article 32 investigation, the military equivalent of a grand jury hearing.

The judge ordered Ambuhl's Article 32 hearing reopened in Baghdad to determine whether the additional charges are warranted.




Today's Top News
Top World News

China to squeeze credit to curb inflation




Zeng: Pay all owed wages to migrant workers




China cancels 4,800 development zones




Yao lifts China into Olympic quarter-finals




Law to protect HB virus carriers




Ministry denies pig's bird flu infection