Fighting, artillery barrage rocks Iraqi shrine
(Agencies)
Updated: 2004-08-23 23:41
U.S. marines and Shi'ite militiamen fought fierce battles around a shrine in the Iraqi city of Najaf on Monday in some of the heaviest fighting since the 20-day-old rebellion erupted.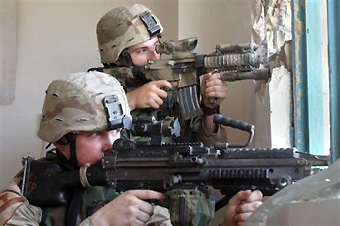 U.S. Army soldiers aim through the window of an abandoned hotel in Najaf, Iraq, Monday Aug. 23, 2004. Sporadic, but heavy fighting continued overnight and into the day Monday. [AP]


At least 15 explosions, many sounding like artillery shells, rocked the area near the Imam Ali mosque, where the Mehdi Army fighters of radical Shi'ite Muslim cleric Moqtada al-Sadr have holed up in defiance of the U.S.-backed interim government.

Gunfire echoed through the alleyways near the shrine while U.S. tanks kept up their encirclement around the city's heart.

Shrapnel landed in the courtyard of the gold-domed mosque, whose outer walls have already been slightly damaged in fighting that has killed hundreds and driven oil prices to record highs.

News that Iraq's crude exports were back to normal on Monday for the first time in two weeks could calm jittery oil markets. Exports had been sharply reduced due to sabotage and threats from militants.

Oil prices rose to nearly $50 a barrel last week but have since eased somewhat and U.S. light crude was trading around $47 a barrel on Monday.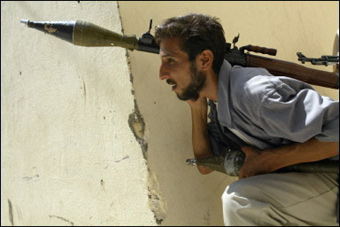 A militiaman loyal to radical Iraqi Shiite cleric Moqtada Sadr armed with a rocket-propelled grenade launcher takes position in Najaf during clashes with US-led forces. [AFP]


Iraq resumed pumping crude along its northern pipeline, a shipping agent said. The pipeline has largely been shut since last year due to attacks, and only intermittently pumps oil.

The fighting around Iraq's holiest Shi'ite Muslim shrine eased for a time but then broke out again in the early afternoon, especially near an ancient cemetery that adjoins the mosque. Large plumes of smoke rose into the air.

FRUITLESS TALKS

Overnight, a U.S. AC-130 gunship blasted rebel positions after a weekend of fruitless talks between Sadr's aides and religious authorities to hand over the keys of the shrine to Ayatollah Ali al-Sistani, Iraq's most respected Shi'ite cleric.

In an apparent relaxation of Sadr's demand that the Mehdi Army guard the mosque even once it is handed over, a top Sadr aide said Shi'ite authorities would be responsible.

"The religious establishment will be in charge of security and they should have their own security force," said Sheikh Ahmed al-Sheibani, also a Mehdi militia commander.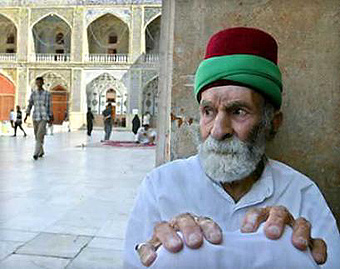 Elderly Iraqi Shi'ite man Bakka Ibrahim, 79, rests during his weekly visit to the Imam Ali shrine in Najaf August 23, 2004. All the action didn't prevent the 79-year-old man from sitting on a step and seeking spiritual comfort in the golden shrine, his weekly routine since he was a young boy. Fierce fighting broke out around the shrine and pieces of shrapnel landed in the courtyard of the mosque held by followers of a radical Shi'ite cleric. [Reuters]


Speaking to reporters inside the mosque, Sheibani said the cleric's fighters would become "normal citizens" if U.S. forces returned to their bases and the southern city became stable.

The uprising is a brazen challenge to interim Prime Minister Iyad Allawi, who took over from U.S.-led occupiers two months ago and faces the daunting prospect of getting Iraq ready for elections in January.

His government has tried to defuse the crisis with a mix of threats to storm the shrine and peace offerings.

Sadr, the face of Shi'ite resistance in Iraq and whose whereabouts are unknown, has at times appeared to accept the government's demands only to spurn them later. Allawi has insisted Sadr disarm his militia and take his grievances to the political arena.

The rebellion has also triggered violence in seven other southern and central cities, including Baghdad.

Serious damage to the mosque could enrage millions of Shi'ites and fuel hostility to the U.S. presence in Iraq.

READY TO FIGHT FOR MONTHS

There appeared to be fewer militia along the alleys leading to the shrine on Monday than on previous days. But Sheibani said fighters were being rotated.

Militants said they had enough food, water and ammunition to last for weeks, maybe months.

"We are here to kill and we have enough stamina," said Hamed Khudayir, 54, referring to himself and his 10-year-old son Ali.

In fresh attempts to force foreign firms to leave Iraq, a Turkish contractor and two Iraqis who worked for a construction company were killed when gunmen opened fire on their vehicle in the northern city of Tikrit, the U.S. military said.

An Indonesian worker was killed and a Filipino wounded in the northern Iraqi city of Mosul on Sunday.

The U.S. military said five of its troops were killed at the weekend.

Sadr had insisted Sistani send a delegation to take an inventory of precious items in the mosque before it was handed over. Sheibani said that was no longer necessary.

Sistani, who usually lives in Najaf, is in London recovering from surgery. An aide said his offer to mediate the crisis by receiving the shrine's keys remained in place.




Today's Top News
Top World News

Vice-premier: Pay all owed wages to migrant workers




China cancels 4,800 development zones




Yao lifts China into Olympic quarter-finals




Law to protect HB virus carriers




Games stadium redesign may save US$336m




Ministry denies pig's bird flu infection