Beijing issues 'green cards' to foreigners
By Li Jing (China Daily)
Updated: 2004-08-23 22:31
The Beijing Public Security Bureau Monday received the first batch of applications for the country's new "green cards" for permanent residence.
Joan Hinton from the United States, Kyoko Nakamura from Japan and another eight foreigners, who filed their applications Monday, will get the permanent residence cards within one month, said Liu Jiewei, an official with the bureau's Entry-Exit Administrative Division.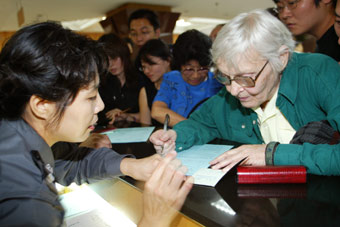 Joan Hinton, 83, an American expert at the Beijing Farm Machinery Research Institute, gets her "green card" Monday at the Entry-Exit Administrative Division of the Beijing Public Security Bureau.
[newsphoto]


All 10 applicants already have certificates of resettlement or permanent residence.

For them, the move is simply a change from the old paper to the new green cards, said Liu.

Since 1986, his bureau has issued permanent residence certificates to 35 foreigners who have made great contributions to China's revolution and construction.

Another 277 foreigners have certificates of resettlement issued in Beijing since the People's Republic of China was founded in 1949.

"At present, a total of 156 foreigners from 20 countries hold either one of the two kinds of certificates and they are living and working in Beijing," said Liu.

He said these people now can come to his division and change their old certificates to the unified "green card'' for a fee of 300 yuan (US$36).

Liu also mentioned that any foreigners, as long as they meet the requirements of the new permanent residence scheme, can apply for the "green card." The cost is 1,500 yuan (US$181).

According to the Regulations on Examination and Approval of Permanent Residence of Aliens in China, promulgated on August 15, eligibility for permanent residence mainly applies to four categories of people.

The first group is high-level foreign personnel who hold posts in businesses which promote China's economic, scientific and technological development or social progress.

The second category includes foreign citizens who make relatively large direct investment in China.

The third includes foreigners who have made outstanding contributions or are of special importance to China, and the fourth includes foreigners who come to China to be with their families.

Public security authorities will make the decision on each application within six months.

Joan Hinton, who has been working in China since 1948 and got the certificate of permanent residence in 1986, said she has witnessed great changes of China's entry-exit management.

The 83-year-old woman said with permanent residence status in China, she needs not obtain visas and can enter and leave the country with her valid passport and the alien permanent residence permit.

Du Taiyuan, head of the entry-exit administrative division, said foreigners holding the "green cards'' can also change their jobs and living places during their stay in China without going through any examination and approval.

Du said foreigners who are not eligible or do not intend to get the "green card'' can apply for 1-5 years of residence permits and multi-entry visas.




Today's Top News
Top China News

Vice-premier: Pay all owed wages to migrant workers




China cancels 4,800 development zones




Yao lifts China into Olympic quarter-finals




Law to protect HB virus carriers




Beijing issues 'green cards' to foreigners




Ministry denies pig's bird flu infection