DPRK: Bush worse than Hitler
(Agencies)
Updated: 2004-08-23 16:30
The Democratic People's Republic of Korea (DPRK) has described U.S. President George W. Bush as a tyrannical political imbecile who put Adolf Hitler in the shade and said Pyongyang could see no justification for talks with his administration.
Six-party working-level talks on the DPRK's nuclear weapons ambitions had been planned for August but have yet to materialise.
The September date for more senior talks is also in question, although diplomats note Pyongyang often raises its rhetorical voice before attending talks or compromising.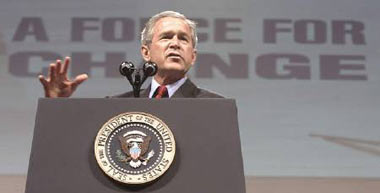 Bush, compared to Hitler by DPRK, is pictured in a file photo. [Reuters/File]


In a strongly worded statement published by the official KCNA news agency, a DPR Korean Foreign Ministry spokesman said Bush had hurled "malignant slanders and calumnies" against Pyongyang's leadership under Kim Jong-il.

"This clearly proves that the DPRK was quite right when it commented that he is a political imbecile bereft of even elementary morality as a human being and a bad guy, much less being a politician," the spokesman said. "Bush is a tyrant that puts Hitler into the shade."

DPRK is short for the North's official name, while western countries often called DPRK north Korea or the North.

Bush said in a presidential election campaign speech last Wednesday in Hudson, Wisconsin, he had made the decision to bring in other countries to help persuade the DPRK to disarm.

"NO" COULD STILL MEAN "YES"

"I felt it was important to bring other countries into the mix, like China and Japan and South Korea and Russia, so there's now five countries saying to the tyrant in North Korea, disarm, disarm," he said.

The DPR Korean spokesman said it had been impossible to hold working-level talks between the two Koreas, China, Japan, Russia and the United States because of hostile U.S. policy.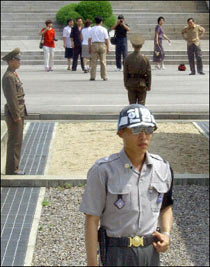 DPR Korean tourists take pictures on the Northern side of the demilitarized zone at the treaty village of Panmunjom as a South Korean MP patrols (front). [AP]

He said the latest comments had made matters worse.

"This made it quite impossible for the DPRK to go to the talks and deprived it of any elementary justification to sit at the negotiating table with the U.S.," he said.

Some DPRK analysts say the bluster masks Pyongyang's true aim; to bide its time until it is clear whether Bush or Democrat challenger John Kerry is elected in November's presidential election.

South Korea's financial markets were unaffected by the North's latest outburst, which followed a less firmly worded threat last week to stay away from further talks.

"The North Korea news failed to draw the attention of the stock market," said Oh Hyun-seok, an analyst at Samsung Securities, adding the main index turned lower because foreigners were selling shares after their portfolios were filled.

A South Korean official told Reuters the North was not unequivocally ruling out talks and noted there were still five weeks until the end of September, by which time full six-way talks are supposed to have been held.

"North Korea has never categorically said it will not be attending the fourth round of six-party talks," the South Korean official said.




Today's Top News
Top World News

Deng Xiaoping's centenary celebrated by huge mass




China gain 4 more golds, back to top spot




Beijing breeds new flowers for 2008 Olympics




Experts urge government to levy fuel tax




N. Korea: 'Impossible' to join nuclear talks




Gatlin wins 100m race, dubbed fastest man