Zhang Yining completes China's golden 100
(Xinhua)
Updated: 2004-08-22 19:52
World top-ranked Zhang Yining claimed China's 100th gold medal in summer Olympic Games as she overcame a fast-hitting DPR Korean in the women's table tennis singles final Sunday afternoon.
The historic 100-gold mark was reached after the United States gave a timely helping hand as its shooter Matthew Emmons misfired the last shot to give the men's 50m rifle 3 positions gold to Chinese Jia Zhanbo.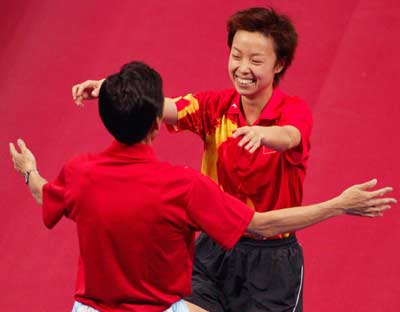 China's Zhang Yining (R) celebrates victory with her coach Li Sun at the women's singles finals match against North Korea's Kim Hyang-Mi at Athens 2004 Olympic Games, August 22, 2004. Zhang Yining won the match 11-8 11-7 11-2 11-2. [Reuters]
Jia's gold was China's 99th since the world's most populous nation ended its Olympic gold drought in 1984.
Zhang played an aggressive topspin game to subdue Kim Kyung Ah in four straight sets (11-8, 11-7, 11-2, 11-2) to win China's 16th table tennis title since the sport's Olympic debut in 1988.
It was the second gold for Zhang, who has long been living under the shadow of the 2000 Olympic dual gold medalist Wang Nan.
Zhang had combined with Wang to win the women's doubles on Saturday.
Virtually unknown Jia Zhanbo became one of the luckiest guys in the Olympic history.
With a shaky start in the final that cost him a two-point lead won in the qualification, the Chinese trailed American Emmons by three points going into the last shot.
Then the most unexpected thing happened.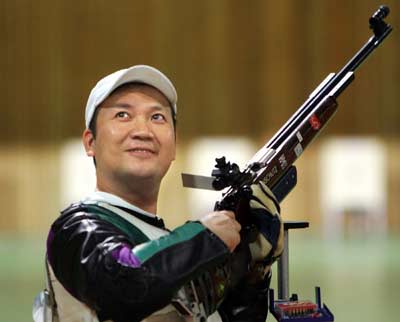 China's Jia Zhanbo reacts after he won the men's 50-meter rifle 3 positions final of Athens 2004 Olympic Games in Athens, August 22, 2004. Jia took gold with a score of 1264.5. [Reuters]
Emmons scored a "no-hit" in his last shot and fell to eighth while the Chinese posted a 10.1 points for a winning total of 1, 264.5.
"Emmons' shot hit other shooter's target," Vassilis Delios, chief range officer, told Xinhua.
David Johnson, coach of the US shooting team, acknowledged the referee's ruling.
"It rarely happened in international competition," said Johnson.
American Michael Anti took silver on 1,263.1, while Christian Planer of Austria won bronze 1,262.8.
Today's Top News
Top Sports News

China gain 4 more golds, back to top spot




Grand meeting hails Deng's centenary




Experts urge government to levy fuel tax




Web portals facing tighter supervision




Blasts, gunfire shake Najaf as talks drag




Beijing subway lines set for 2008 completions