Militants hold Najaf shrine; bombing heard
(Agencies)
Updated: 2004-08-22 11:23
Militants loyal to radical Shiite cleric Muqtada al-Sadr kept their hold on a revered shrine, and clashes flared in Najaf on Saturday, raising fears that a resolution to the crisis in the holy city could collapse amid bickering between Shiite leaders.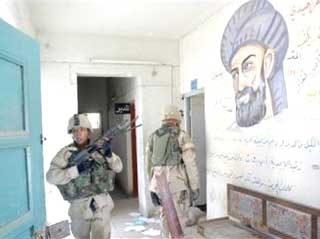 U.S. Army soldiers raid a building near the ancient cemetery under fire from insurgents in Najaf, Iraq, Saturday, Aug. 21, 2004. [AP]

An unofficial mediator pleaded with al-Sadr to disarm his militants, pull them out of the shrine and disband his militia immediately. "We are in a race with time," said Hussein al-Sadr, a distant relative of the cleric.

Early Sunday, U.S. warplanes bombed Najaf's Old City, the scene of much of the fighting, and the sounds of shelling could be heard in the streets, witnesses said. The U.S. military could not confirm the bombing, but said operations in Najaf were ongoing.

On Saturday, clashes between U.S. troops and al-Sadr fighters were brief but heavy, punctuated by gunfire and explosions, with one blast hitting the street 50 yards from the Imam Ali Shrine at the center of the standoff.

Marine Capt. Carrie Batson said U.S. troops came under mortar attack in the Old City and destroyed two militant mortar positions with gunfire and an Apache helicopter attack.

The fighting died down after about 45 minutes, returning the city to the relative calm that it has seen.

Still, the flare-up reflected the danger that peace efforts could fall apart once again, mired in last-minute delays. Al-Sadr's Mahdi Army militia still held the Imam Ali Shrine, their stronghold throughout this month's fighting, and while it has agreed to hand it over to Shiite religious authorities, the two sides were squabbling over how to do so.

Meanwhile Saturday, a series of attacks targeting U.S. and Iraqi forces across the country killed a U.S. soldier, a Polish soldier and five Iraqis. Militants have been using car bombs, assassinations, sabotage, kidnappings and other attacks in a 16-month insurgency aimed at destabilizing the country.

The violence in Najaf, which had spread to other Shiite communities, posed the greatest risk to the interim government of Prime Minister Ayad Allawi. Government officials had threatened to raid the mosque to set an example to other insurgent groups, but such an operation risked turning the nation's majority Shiites against the government.

The crisis appeared on the verge of resolution Friday, when insurgents decided to remove their weapons from the shrine and said they were willing to turn the holy site over to representatives of Iraq's top Shiite cleric, Grand Ayatollah Ali al-Husseini al-Sistani.

Then, the handover bogged down Saturday amid arguments over its implementation.

Al-Sadr's followers said they tried to give the shrine's keys to al-Sistani's representatives, who refused to accept them. But an aide to al-Sistani - who is in London undergoing medical treatment - said al-Sadr's followers must leave the holy shrine's compound, "close the doors and hand over the keys."

"We cannot receive the shrine compound unless they agree to this formula," said the aide, Sheik Hamed Khafaf.

Sheik Ali Smeisim, al-Sadr's chief lieutenant, said the militants would not leave until a delegation from al-Sistani's office inspects the shrine to ensure its treasures are intact, so they could not be accused of taking anything.

Khafaf said the violence precludes such a delegation.

In a hastily called news conference in Baghdad on Saturday evening, Hussein al-Sadr, who had headed a peace delegation to Najaf earlier in the week, appealed to the militants to end the standoff "to keep the sanctity of our holy sites, to ease the suffering of Najaf and to quiet the situation."

He asked al-Sadr himself to send him a handwritten letter with his response, which he promised to relay to the government. "I call on Muqtada al-Sadr - and all our brothers and sisters - to understand the depth of this crisis," he said.

The standoff has frustrated many in Najaf, who have suffered cuts in their water and electricity, had their streets rocked by explosions and seen scores of their neighbors killed since the fighting started Aug. 5.

"All parties are stalling," said Saeed Mohammed, 41. "There has been no change, only more shelling and clashes that have hurt the city even more."

The proposed handover of the shrine to religious authorities offered a face-saving way to end the fighting, allowing Iraq's interim government to keep its pledge not to negotiate and the militants to say they had not capitulated.

As the crisis continued, al-Sadr aide Sheik Awas al-Khafaji said Saturday that kidnappers had lifted their threat to kill a U.S. journalist abducted in the southern city of Nasiriyah along with his Iraqi translator Aug. 13.

The kidnappers, calling themselves the Martyrs Brigade, threatened Thursday to kill Micah Garen, 36, of New York, within 48 hours if U.S. troops did not leave Najaf.

Al-Khafaji said Saturday that mediators told him the death threat had been removed and they were working for Garen's release.

"We hope that he will be released today and our efforts would be fruitful," he said Saturday. "As for the Iraqi translator, we have received assurances that he is going to be released with the journalist."

Also Saturday, coalition forces arrested Maj. Gen. Jaadan Mohammed al-Alwan, the police chief of volatile Anbar province, accusing him of corruption and criminal activity, including extortion, embezzlement and accepting bribes, the U.S. military said in a statement. Al-Alwan also has possible connections with kidnapping and murder, the military said.

Al-Alwan's arrest was authorized by the Iraqi government, and he is to be replaced by an interim chief to be appointed by the governor, the statement said.

Violence continued Saturday elsewhere across Iraq:

_Insurgents bombed an oil pipeline in Berjisiya, 20 miles southwest of the southern city of Basra, setting it ablaze, said Lt. Mohammed al-Mousawi of the Iraqi National Guard. The pipeline had been closed for a week due to threats, and the attack did not appear likely to effect exports.

_Attackers fired a rocket-propelled grenade at a U.S. military vehicle in Baghdad, killing one soldier and wounding two others, the military said. As of Friday, 949 U.S. service members have died since the beginning of military operations here in March 2003, according to the U.S. Defense Department.

_A Polish soldier was killed and six more were injured when a car bomb exploded near their convoy outside the city of Hillah, 60 miles south of Baghdad; Polish troops exchanged gunfire with the insurgents, killing some of them, Maj. Krzysztof Plazuk said. The death brought to 10 the number of Polish soldiers killed in Iraq.

_ An Iraqi National Guard soldier was killed and two guardsmen and three civilians were wounded when a bomb exploded in the northern city of Mosul, a guard official said.

_ Assailants detonated a roadside bomb after a U.S. convoy drove by in Baqouba, 35 miles outside of Baghdad, killing two civilians and injuring four, a hospital official said. A separate roadside bomb exploded in Sabtiya, near Baqouba, after a U.S. convoy passed, killing a street cleaner and wounding another Iraqi.

_ In Ramadi, 70 miles west of Baghdad, gunmen shot dead Lt. Col. Saad Smayer, a senior police officer, as he left home for work, police said.




Today's Top News
Top World News

Hu: Deng sets a glorious example for people




Superwoman Tang wins 18th gold for China




Web portals facing tighter supervision




Rules protect rights of detainees




Comment: Tme to rethink monetary policy





Tipping tour guides sparks debate