Superwoman Tang wins 18th gold for China
(Agencies)
Updated: 2004-08-22 07:33
China's Tang Gonghong was crowned the strongest woman in the world and has an Olympic gold medal dangling from her massive neck as the ultimate accolade of her astonishing power.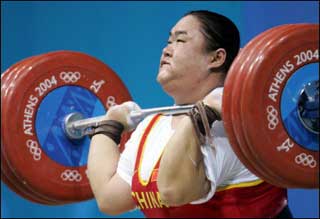 China's Tang Gonghong performs a successful lift to set a new world Olympic record. Tang was crowned the strongest woman in the world and has an Olympic gold medal dangling from her massive neck as the ultimate accolade of her astonishing power. [AFP]

In a dramatic finale to a gripping contest on Saturday, Tang lifted a new world record weight in the clean and jerk to edge 20-year-old South Korean Jang Mi-Ran, who seemed to have sewn up victory in the women's superheavyweight category.

Tang, who kept Olympic and world champion Ding Meiyuan out of the Chinese 'Dream Team', presented her country with their fifth weightlifting gold of the Games to equal their tally at the 2000 Sydney Games. The women 'Bar Belles' won three out of a possible four and the men two titles.

The 25-year-old Tang, the reigning Asian champion who tops the scales at just under 120kg, won with a jaw-dropping total of 305kg, which beat her own world record set earlier this year by 2.5kg.

Jang, just 20 and with little international experience before the Olympics, took the silver with 302.5kg. The colourful Agata Wrobel of Poland added a bronze to the silver she won at the 2000 Sydney Games with 290kg.

"My performance was good and I am very happy to have won gold," said a smiling Tang. "I was under a lot of pressure in the clean and jerk as I had not done very well in the snatch.

"Fortunately, I pulled off a good lift and broke the world record in clean and jerk and total. I am extremely pleased with that.

"When I got agitated (after missing a lift) my coach and colleagues calmed me down and gave me advice. I thank them for that."

The drama-packed showdown of the world's strongest women climaxed with Tang going where no women weightlifter had gone before.

After missing a lift of 172.5kg at her first clean and jerk attempt, before pinning it at the second, she opened the door for Jang who was ahead from the earlier snatch.

The Korean took gold medal position briefly by lifting 172.5kg and immediately sank to her knees in tears.

Tang strode purposefully onto the stage and stared down the 182.5kg bar sitting in front of her. She lifted it to her chest and after standing motionless for more than 10 seconds hoisted it to the heavens.

The gold was hers along with a new world record. Her own old mark was 175kg, and astonishing 7.5kg lighter.

Wrobel made an impact in the opening snatch section and not just with her sensational lifting. The Pole sported pink-dyed dreadlocks and dangly earrings and wore a revealing low-cut body suit without a T-shirt underneath.

She was tied for the lead on 130kg with Jang and Victorij Shaimardanova of Ukraine. Tang was 7.5kg off the pace but the contenders knew they could not write off the clean and jerk world record holder.

Olha Korobka of Ukraine established an offbeat Olympic record of her own as the heaviest woman to compete in the Olympics in more than a century. She weighed in at a gargantuan 156.19kg.

Records show that fellow weightlifter Cheryl Haworth of the United States was 139.38kgs when she took bronze at the 2000 Sydney Olympics.

Before the contest began Russia's Albina Khomich was prevented from competing after failing an out-of-competition drug test. She was the ninth weightlifter to test positive at the Athens Olympics.




Today's Top News
Top Sports News

China gains 4 more golds, tops gold tally again




Hu: Deng's legacy still influences China




Web portals facing tighter supervision




Rules protect rights of detainees




Comment: Time to rethink monetary policy





Tipping tour guides sparks debate