Zhang Ziyi to star in 'geisha' movie
(Agencies)
Updated: 2004-08-21 11:54
After long years of development and some tricky Hollywood dealmaking, a movie version of the best-selling novel "Memoirs of a Geisha" is headed into production.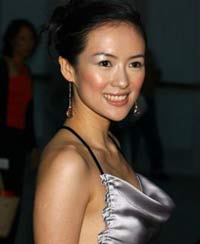 Zhang Ziyi arrives at the premiere of 'Hero' at the ArcLight Cinemas in this Aug. 17, 2004 file photo taken in Hollywood, Calif. The lead role of Sayuri, for a movie version of the best-selling novel 'Memoirs of a Geisha,' will go to Ziyi, her publicist said Thursday, Aug. 19, 2004. [Reuters]

The book became a sensation around the world when it was first published in 1997. The story chronicles a young girl's rise from poverty in a Japanese fishing village to life in high society.

The lead role of Sayuri will go to Zhang Ziyi, the Chinese actress who starred in "Crouching Tiger, Hidden Dragon" and appeared in the comedy "Rush Hour 2," her publicist said Thursday.

For those unfamiliar with the story, a geisha is a Japanese woman schooled in the art of dance, singing and conversation to be a companion for wealthy men.

Zhang, 25, has been working to perfect her English for several years and now speaks the language with little difficulty.

"This is the first time that I will play the lead in an English-language movie. It will be a big challenge, but the studios, producers and director have shown great confidence in me. I will continue to do my utmost to make this the best role I've ever played," she told reporters.

Ken Watanabe, an Oscar nominee for "The Last Samurai," will portray the Chairman, a high-powered executive with whom Sayuri falls in love.

Another "Crouching Tiger, Hidden Dragon" co-star, Michelle Yeoh, has signed to portray Mameha, the elegant and experienced geisha who becomes Sayuri's mentor.

"Geisha" will be directed by Rob Marshall, the Oscar-nominated director of "Chicago."

Marshall has long wanted to make this his next project, but was locked into a contract with Miramax Films, while Columbia Pictures and DreamWorks SKG held the rights to "Geisha." After lengthy negotiations that threatened to block his participation, a deal was eventually reached among the studios.

"We could not be more excited about the extraordinary cast that we have in place for `Memoirs of a Geisha,'" said Marshall, who's also a Tony-winning director and choreographer. "We are adapting a beloved piece of literature that has become a worldwide sensation, which made it important to me to assemble a cast with a prestigious international profile."

For many years, Steven Spielberg was interested in directing the film. He will now serve as a producer.

"From the time I first read Arthur Golden's novel, I wanted to see this as a film," Spielberg said. "It's a uniquely compelling story rich with characters who take you into a world you have never experienced before."

Production is set to begin in the fall, but the release date has not yet been specified.




| | |
| --- | --- |
| | |
| Britain grudged admiration for Che Guevara, records show | |

| | |
| --- | --- |
| | |
| The film Hero's Hollywood premiere | |

| | |
| --- | --- |
| | |
| Michelle Yeoh in a new relationship | |
Today's Top News
Top Life News

Table tennis pair win China's 15th gold




Rules protect rights of detainees




Tipping tour guides sparks debate




China faces elderly dilemma




US campaign price tag: US$1 billion plus




Death toll rises to 39 in Zhejiang mudflow