Sadr militiamen still in control of Iraq shrine
(Agencies)
Updated: 2004-08-21 11:41
Rebel Shi'ite fighters appeared still to be in control of the Imam Ali mosque in the Iraqi city Najaf early on Saturday, but the whereabouts of their leader, the fiery cleric Moqtada al-Sadr, were unknown.
Witnesses in the southern city said Mehdi Army militiamen loyal to Sadr controlled the narrow alleys leading to the mosque, although the government said earlier it had overcome their bloody uprising by seizing the shrine without bloodshed.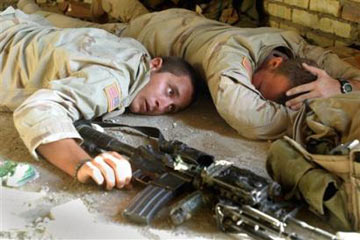 U.S. Army soldiers take cover in a fortified position in Najaf, Iraq Friday, Aug. 20, 2004. Later on Friday, militiamen loyal to rebel Shiite cleric Muqtada al-Sadr removed their weapons from the revered Imam Ali Shrine in Najaf as part of an effort to end 2-week-old uprising centered on the holy site. [AP]


"The shrine is in the control of the Mehdi Army," Sadr aide Sheikh Ahmad al-Sheibani said on Friday. "The Mehdi Army will resist any attempt by the Iraqi police to control the shrine."

Police were nowhere to be seen in the area round the mosque, Iraq's holiest Shi'ite Muslim shrine, and police elsewhere in the city told broadcaster CNN they did not control the site.

Confusion over the fate of the mosque swirled as the rebellion that has killed hundreds and driven world oil prices to record highs entered its third week.

Residents said clashes died down after dark on Friday, giving way to a calm broken only sporadically by U.S. aircraft flying overhead.

Any bloodless seizure of the mosque would be a big political victory for interim Prime Minister Iyad Allawi. Since taking over from U.S. occupiers on June 28 he has struggled to end an insurgency and the Sadr-inspired Shi'ite revolt in eight cities.

Sheibani denied Interior Ministry comments that police had entered the shrine and arrested hundreds of militiamen. He said talks were under way to hand the keys of the mosque to Iraq's most influential Shi'ite cleric, Grand Ayatollah Ali al-Sistani.

"Procedures are under way to hand over control of the shrine to Ayatollah Ali al-Sistani," he said.

Sistani, who is still in Britain after undergoing heart surgery, told his aides in Najaf to prepare to accept the keys to the mosque, a London-based Sistani spokesman said.

The apparent concession could be purely symbolic, unless the Mehdi militiamen leave the shrine. Sadr's aides have said they still reject Allawi's demands for the militia to disband.

U.S. Rear Admiral Greg Slavonic said he could not confirm the Najaf mosque was in government hands, adding that Sadr's whereabouts were unknown. "We have no confirmation or intelligence on where he may be," Slavonic said in Baghdad.

At least 77 Iraqis were killed and around 70 wounded in ferocious U.S. air strikes and heavy fighting in the previous 24 hours in the city, health officials said.

The uprising has fueled fears of disruption to Iraqi oil production and helped push world crude prices to new highs. U.S. light crude hit a new record of $49.40 a barrel on Friday, before slipping back to close just below $48.

ATTACK ON POLICE STATION

Insurgents battling U.S.-led forces and the Iraqi interim government attacked a police station in the Italian-controlled Shi'ite city of Nassiriya, in the south of the country, killing three police and wounding several. A policeman at the scene said it appeared a rocket had hit the building.

Interior Ministry spokesman Sabah Kadhim said Sadr might have escaped. He urged the cleric to surrender so he might be covered by an amnesty Allawi has offered to some of those opposing his government.

Sadr's offer to hand control of the shrine to Shi'ite religious authorities and a pledge by Allawi that his forces would not storm the shrine followed the most intense U.S. bombardment of Mehdi positions since the conflict erupted.

U.S. aircraft struck repeatedly on Thursday night, but their attacks eased at daybreak on Friday.

The Mehdi Army had been entrenched inside the shrine and the web of narrow alleys leading to it, along with a nearby ancient cemetery. Witnesses had said there were several hundred fighters inside the sprawling mosque complex.

The shrine marks the tomb of Imam Ali bin Abi Talib -- the cousin and son-in-law of the Prophet Mohammad -- and has been run by Sadr's militia since an earlier uprising in April.

One of Najaf's most prominent sons, footballer Salih Sadir, expressed anger on Friday that his national soccer team had been used in a re-election campaign advertisement by U.S. President Bush.

"Iraq as a team does not want Mr Bush to use us for the presidential campaign," said Sadir, in the team representing Iraq at the Olympic Games in Athens.

"He can find another way to advertise himself," he was quoted as saying by Sports Illustrated magazine.




Today's Top News
Top World News

Table tennis pair win China's 15th gold




Rules protect rights of detainees




Tipping tour guides sparks debate




China faces elderly dilemma




US campaign price tag: US$1 billion plus




Death toll rises to 39 in Zhejiang mudflow