Najaf shrine standoff appears near resolution
(Agencies)
Updated: 2004-08-21 09:10
A rebel cleric's militiamen kept their guns outside a holy site Friday after issuing a surprise offer to give up control of the Imam Ali Shrine to Shiite Muslim religious leaders, but negotiators wrangled into the night over getting the militants out of the compound.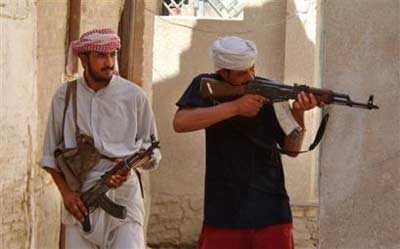 Al Mahdi soldiers loyal to radical Shiite cleric Muqtada al-Sadr clash with U.S. and Iraqi forces in the besieged city of Najaf, Iraq Friday Aug. 20, 2004. [AP Photo]
The removal of weapons and pledge to hand over keys to religious authorities was seen as a big step toward a resolution of the two-week faceoff in Najaf that has killed dozens of people and wounded hundreds in fighting between Muqtada al-Sadr's militia and a joint U.S.-Iraq force.
Offering a face-saving way out of the crisis, a peaceful pullout mediated by religious authorities would allow Iraq's interim government to keep its pledge not to negotiate and let the militants say they had not capitulated to U.S.-led troops.
The development came just a day after al-Sadr's militants rejected a government ultimatum to withdraw from the shrine or face an assault on the walled compound. Iraqi Prime Minister Ayad Allawi backed off the threat after the new offer from al-Sadr, and his national security adviser reiterated that the government wanted al-Sadr to join the political process.
Al-Sadr has said previously he would not give in to the government demand to disband his militia and take up politics. It remained unclear how the government would react if that demand went unmet.
Sporadic explosions and gunfire were heard in the streets of this holy city, but the clashes were far fewer and less intense than in previous days. Fighting between Thursday and Friday mornings killed 77 people and wounded 70 others, officials said.
Armed militants could be seen around the shrine before sundown, circulating in the Old City district, but any who entered the Imam Ali compound left their guns with comrades outside, then reclaimed them when they exited. Inside the compound, unarmed fighters mingled with civilians.
An Associated Press reporter saw no weapons in the shrine. It was not possible to check whether any weapons were hidden inside, though militia leaders denied any were. No police or Iraqi security forces were in the shrine.
After nightfall, al-Sadr's aides were still negotiating details of the shrine's handover to representatives of Iraq's top Shiite cleric, Grand Ayatollah Ali al-Husseini al-Sistani, who is in a London hospital for treatment of a heart problem.
It was not clear if the militia wanted its men to be able to stay in the compound, which they have used as a refugee. But al-Sistani's representatives insisted the fighters had to leave before they would take responsibility for the shrine.
"If they want to vacate the holy shrine compound and close the doors, then the office of the religious authority in holy Najaf will take these keys," an al-Sistani aide, Sheik Hamed Khafaf said, from London. "Until now, this hasn't happened."
The government was not part of the talks, and it continued to demand that al-Sadr disband his militia and join in peaceful politics and help create a democracy for Iraqis.
"We need to get rid of this militia and we need to get them to disarm and leave the shrine," Iraqi National Security adviser Mouaffaq al-Rubaie said. "There's no way we can build democracy in this country with a militia all over the country."
A previous uprising led by al-Sadr in the spring ended with a series of truces that kept his militia intact to fight in a new round of violence that started Aug. 5. The government and the U.S. military have said any resolution to the fighting should ensure there is no third round.
Meanwhile, insurgents ambushed a U.S. military patrol with a bomb Friday in Samarra, 60 miles north of Baghdad, killing two American soldiers and wounding three, said Maj. Neal O'Brien, a spokesman for the U.S. Army's 1st Infantry Division.
The military also reported that two Marines had been killed in action in the restive Anbar province, one on Wednesday and the other on Thursday. As of Thursday, 947 U.S. personnel had died since the beginning of military operations in Iraq in March 2003, according to the U.S. Defense Department.
West of Baghdad, U.S. warplanes staged two airstrikes Friday in Fallujah, which is a hotbed of Sunni Muslim insurgents. Two people were killed and six injured in the first attack just after midnight, said Dia'a al-Jumeili, a doctor at Fallujah's main hospital. A second missile hit an industrial area in the morning, wounding three people.
In Baghdad, troops from the U.S. Army's 1st Cavalry Division pulled out of the Sadr City slum, which saw fierce fighting between U.S. forces and al-Sadr's supporters the day before.
Fighting throughout Baghdad killed 11 people and wounded 63 between Thursday night and Friday night, the Health Ministry reported.
Police in the southern city of Amarah said al-Sadr militants blew up an oil pipeline near town Friday. The extent of damage to the line, which runs from the southern Bezergan oil field to a refinery in Amarah, was not immediately clear, officials said. The attack came a day after Mahdi Army fighters set an oil company's offices and warehouses on fire near Basra.
The sudden peace moves in Najaf headed off a government attack on the revered shrine, which was certain to cause bloodshed and likely damage the gold-domed mosque — a result that would enrage Shiites throughout the country and Muslims throughout the world.
Iraqi officials had said they wanted to destroy the Mahdi Army to send a strong message to insurgents across Iraq, but the prime minister said the offer to give up control of the shrine meant a peaceful resolution was still possible.
"We are not going to attack the mosque. We are not going to attack Muqtada al-Sadr and the mosque. Evidently we are not going to do this," Allawi told BBC radio. "The olive branch is still extended — he can take advantage of the olive branch."
As the militants negotiated the turnover of the shrine, an Interior Ministry spokesman, Sabah Kadhim, briefly confused the situation by wrongly announcing that police had raided the shrine and arrested 400 armed militants without incident.
An AP reporter in the compound said no police officers were there and militants continued to mill about. In an interview with Al-Jazeera television, al-Sadr aide Ahmed al-Shaibany called the government claim "very laughable."
There was no immediate explanation for Kadhim's announcement.
Meanwhile, an aide to al-Sadr said kidnappers promised Friday to release an American journalist abducted in the southern city of Nasiriyah on Aug. 13.
The kidnappers, calling themselves the Martyrs Brigade, threatened a day earlier to kill Micah Garen of New York within 48 hours. But an al-Sadr aide, Sheik Aws al-Khafaji, said he spoke with the militants and was told they would release Garen later Friday. By the end of the day, however, there were no reports that Garen had been released.
Garen appeared in a video aired Friday on Al-Jazeera saying his captors were treating him well. "I am an American journalist in Iraq and I've been asked to deliver a message," he said. "I am in captivity and being treated well."
The Italian Foreign Ministry said Friday that Italian journalist Enzo Baldoni had gone missing in Iraq. Baldoni, a freelance journalist who came to Iraq for the news magazine Diario, was believed to have been in Najaf, the ministry said.
Today's Top News
Top World News

Table tennis pair win China's 15th gold




Rules protect rights of detainees




Tipping tour guides sparks debate




China faces elderly dilemma




US campaign price tag: US$1 billion plus




Death toll rises to 39 in Zhejiang mudflow