China issues "green cards" to foreigners
(Xinhua)
Updated: 2004-08-20 11:25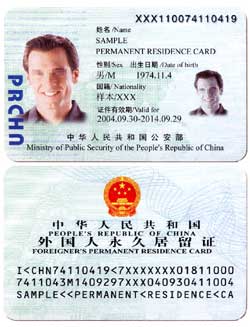 A sample of China's "green card" to be issued to foreigners. [xinhua]

China has officially started to implement its own "Green Card" system, which allows foreigners to apply for permanent residence in China, the Ministry of Public Security said in Beijing Friday.

Spokesman of the ministry Hao Chiyong announced at a press conference that Regulations on Examination and Approval of Permanent Residence of Aliens in China has been approved by the State Council and is effective from August 15.

Hao said issuance of the regulations "indicates the official implementation of the 'Green Card' system in China".

"This is a significant move by the Chinese government to adapt to economic globalization, push forward reform and opening-up and the modernization of socialism still further, and normalize the regulation of examination and approval of permanent residence of aliens in China," said Hao.

According to the regulations, eligibility for permanent residence mainly applies to high-level foreign personnel who hold posts in businesses which promote China's economic, scientific and technological development or social progress, foreign citizens who make relatively large direct investment in China, foreigners who have made outstanding contributions or are of special importance to China, and foreigners who come to China to be with their families.

The regulations provide that there is no limitation on the period of stay of aliens with permanent resident status in China, and they need not obtain visas and can enter and leave the country with their valid passport and Alien Permanent Residence Permits.

The Alien Permanent Residence Permits are valid for five or ten years. Certificates with five-year validity are granted to minors, while certificates with ten-year validity are granted to adults.

Hao said the regulations are aimed at meeting China's demand for high-level foreign personnel and foreigners' aspiration for permanent residence in China and more freedom in entering and leaving China.

The Chinese government has already published a series of laws and regulations on alien's entry and exit, and long-term and permanent residence in China.

Since the implementation of a law on control of the entry and exit of aliens in 1985 and the law's enforcement regulations in 1994, China has approved permanent residence for over 3,000 foreigners, said Hao.




Today's Top News
Top China News

Senior officials face stiff graft checks




China issues "green cards" to foreigners




Gymnastics gold evens the US with China




Crop trade deficit recorded for 1st time




Chen uses stopover to undermine relations




Nine careers added to China's job list