Israel's Peres urges election, pressures Sharon
(Agencies)
Updated: 2004-08-20 10:51
Israel's opposition Labor Party leader pushed an already embattled prime minister to the wall by advocating early elections a day after Ariel Sharon's Likud party barred him from coalition negotiations.
Shimon Peres effectively closed the door to further talks with Sharon, who needs the center-left party to push through his Gaza pullout plan, but left open the possibility of future negotiations should an unlikely majority in Labor agree.
Sharon had vowed to press ahead with the Israeli withdrawal from the Gaza Strip despite a humiliating rebuff from Likud that voted Wednesday against bringing Labor into the government.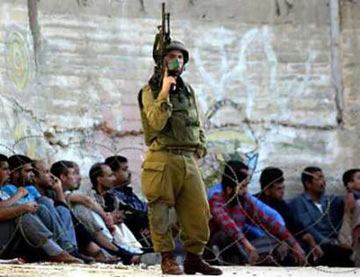 An Israeli soldier guards detained Palestinian men in a school in the Al-Ein refugee camp near the West Bank city of Nablus, August 19, 2004. [Reuters]


Peres, a strong proponent of ceding occupied land for peace, said he would continue to support the Gaza pullout but suggested Sharon had been too seriously weakened by the revolt of Likud rightists to pursue talks with the main opposition party.

"The opinion of the Labor Party today is to call for new elections and allow the people to decide," Peres, a veteran former prime minister and foreign minister, told journalists.

He said elections, which do not have to be held until 2006, should take place "as soon as possible, the minute there is a majority in the Knesset," Israel's parliament.

Peres needs a two-thirds majority to dissolve the 120-seat parliament, which is in recess until October, and some Labor lawmakers voiced doubts they could win such a vote.

There was no immediate comment from Sharon, but sources close to the premier said that although he wanted to avoid early elections he could not rule them out.

Early elections would almost certainly delay the evacuation of 8,000 Jewish settlers from Gaza and hundreds from four West Bank settlements next year under Sharon's pullout plan.

ISRAELIS BACK GAZA WITHDRAWAL

Polls show most Israelis support the withdrawal, regarding the coastal Gaza Strip as a bloody liability. Likud rebels argue that abandoning any land Israel captured in the 1967 Middle East war would "reward Palestinian terrorism."

Before Peres said early elections appeared the best solution in the current environment, Sharon signaled his intent to continue efforts to reshape his coalition and restore the parliamentary majority he lost over the plan.

"The prime minister is continuing with the disengagement," Sharon's office said. "He will try to build a stable coalition government."

Sharon, once considered a champion of settlement expansion, is now reviled by settlers and their supporters despite his aim of cementing Israel's hold on larger settlements in the West Bank, where most of the 240,000 settler population live.

Palestinians say the strategy, which includes the construction of a massive barrier in the West Bank, is aimed at denying them a viable state.

Israel's attorney general urged the government to swiftly reroute the barrier to minimize the risk of international sanctions following a World Bank ruling that the project is illegal.

Israel says the barrier is necessary to help keep out suicide bombers. Palestinians denounce it as a ploy to annex land.

In a separate development, Israel dismantled an unauthorized West Bank outpost in compliance with a U.S.-backed road map to peace -- only days after Sharon approved the building of some 1,000 new settler homes in the West Bank.

U.S. National Security Adviser Condoleezza Rice voiced disapproval of the building plans Thursday. "We've been very clear to them that settlement expansion is not consistent with our understanding under the road map," she said.




Today's Top News
Top World News

Crop trade deficit recorded for 1st time




Chen uses stopover to undermine relations




Gymnastics gold evens the US with China




Senior officials face stiff graft checks




FDI grows by a large margin in July




Massacre proof sent to Nanjing