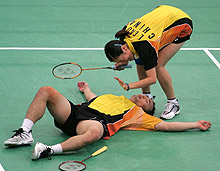 China's Gao Ling and Zhang Jun (L) celebrate victory in their mixed doubles badminton gold medal game against Britain's Nathan Robertson and Gail Emms at the Athens 2004 Olympic Games, August 19, 2004. (Agencies)
China won the first two gold medals in the Olympic badminton tournament on Thursday, with world champion Zhang Ning beating Indonesian-born Dutchwoman Mia Audina 8-11, 11-6, 11-7 in the singles final.
Zhang Jun and Gao Ling edged the British pair of Nathan Robertson and Gail Emms 15-1, 12-15, 15-12 in a thrilling final.
The bronze medal in the mixed doubles went to Jens Eriksen and Mette Schjoldager who beat compatriots Jonas Rasmussen and Rikke Olsen 15-5, 15-5. China also won bronze in the singles, with Zhou Mi defeating fellow Chinese Gong Ruina 11-2, 8-11, 11-6.
Mia, the former Indonesian prodigy who crushed top seed Gong Ruina in the semi-final, regained her best form in the first set, pressing Zhang Ning to make consecutive errors in the first set, and won it 11-8.
Zhang Ning, however, didn't become distressed, recollected her resolve and fought back, finishing the second set 11-6. In the third set, Mia, annoyed by two judgements of linemen and a yellow card from the umpire, started to make errors, handing over the gold to Zhang.

Lifting record
Chinese superwoman Liu Chunhong broke world records to win the women's 69 kg weightlifting gold medal on Thursday.
The 19-year-old underlined her credentials as the sport's brightest young talent by crushing the competition with world record lifts of 122.5 kg in the snatch and 153 kg in the clean and jerk for a world record total of 275 kg, giving China its fourth weightlifting gold.
(China Daily)