Analysis: Doctors a part of Iraq abuse
(Agencies)
Updated: 2004-08-20 08:45
Some U.S. military doctors in Iraq and Afghanistan betrayed their duty to patients by participating in and covering up the abuse of prisoners, a report in the British journal Lancet argues.
Written by Dr. Steven Miles, a bioethicist at a U.S. university, the article calls for an urgent investigation to assess the extent to which U.S. military doctors, nurses and medics abandoned the "moral obligations" of their profession.
Published Thursday, the same day reports emerged that an U.S. army inquiry will lay blame on commanders at Abu Ghraib for creating conditions that allowed abuses to occur at the jail, the article says the testimony which has emerged paints a picture of medical professionals allowing, assisting and participating in the abuse of prisoners.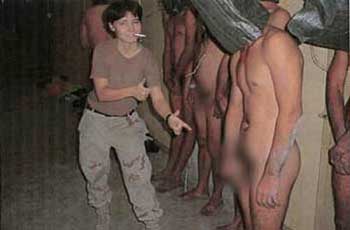 A female US soldier points alongside hooded and naked Iraqi prisoners, at the Abu Ghraib prison near Baghdad in Iraq, in this undated photo. [Reuters]


They are accused of falsifying death certificates, tampering with bodies and, in at least one case, reviving someone beaten unconscious and then leaving him again to the mercy of his interrogators. In at least two cases, Dr. Miles notes, military officials released innocuous information explaining away prisoner deaths, only to later admit that they had died because of mistreatment.

At no point does it seem that the medical people working for the U.S. military blew the whistle, he writes critically. There is no official record of them contradicting faulty death reports issued by the military or informing on their colleagues.

A U.S. military spokesman offered the defence that the incidents described by Dr. Miles became public only because the Pentagon's own investigations.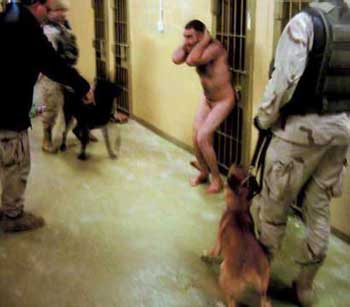 Unidentified U.S. soldiers leashing dogs surround a frightened, naked Iraqi detainee in this photo obtained by The New Yorker said to be taken in December 2003, at the Abu Ghraib prison in Baghdad, Iraq. [AP]


"Many of these cases remain under investigation and charges will be brought against any individual where there is evidence of abuse," Lieutenant-Colonel Barry Johnson said.

The Pentagon launched a quiet investigation earlier this year after a soldier in Iraq revealed the existence of a computer disk of violent images. Some of the photos were circulated around the world, provoking anger and disgust and complicating U.S. efforts to pacify Iraq. But although the conduct of soldiers has since been scrutinized at length, the role of medics has been largely overlooked.

Dr. Miles said that military medicine reform needs to be enshrined in international law and has to include more clout for military medical staff in the defence of human rights.

"The detaining power's health personnel are the first and often the last line of defence against human rights abuses. Their failure to assume that role emphasizes to the prisoner how utterly beyond humane appeal they are," he said.

In his harsh submission to Lancet, Dr. Miles criticizes the inaction of medical staff who did not report abuses but also charges that, in a far worse transgression, "the [military] medical system collaborated with designing and implementing psychologically and physically coercive interrogations."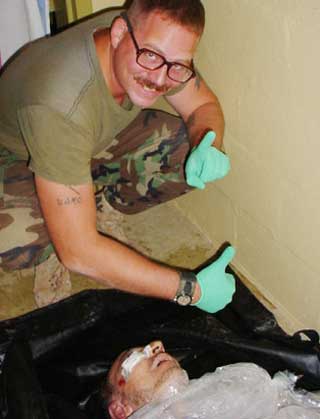 Spc. Charles Graner of the 372nd Military Police Company smiles as he poses by the body of Manadel al-Jamadi, an Iraqi who died in U.S. custody at Abu Ghraib prison. [Reuters/ABCNEWS]


Dr. Miles acknowledges that military medical staff can feel pulled between loyalty to country and adherence to their professional codes, but has little sympathy. He argues that The Geneva Conventions address this ethical dilemma, stipulating that medical personnel cannot be compelled to carry out any work other than that concerned with their medical duties.

"The role of military medicine in these abuses merits special attention because of the moral obligations of medical professionals with regard to torture and because of horror at health professionals who are silently or actively complicit with torture," he writes.

In an editorial accompanying Dr. Miles' article, the journal argues that military medical professionals must not allow misguided loyalties to trick them into abandoning their duty to patients.

"Guidelines and codes of practice state that doctors, even in military forces, must first and foremost be concerned about their patients and bound by principles of medical ethics."




Today's Top News
Top World News

Crop trade deficit recorded for 1st time




Chen uses stopover to undermine relations




Gymnastics gold evens the US with China




Senior officials face stiff graft checks




FDI grows by a large margin in July




Massacre proof sent to Nanjing