Gymnastics gold evens the US with China
(Agencies)
Updated: 2004-08-20 06:36
American swimmer Michael Phelps grabbed a fourth gold at the Athens Olympics Thursday with a clear victory in the 200 meters medley and gold for 16-year-old gymnast Carly Patterson leveled the U.S. with China at 14 each.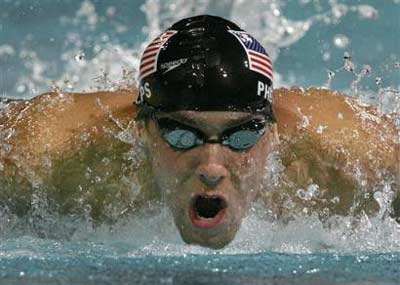 Michael Phelps, of the United States, swims to a gold medal in the 200-meter individual medley at the Olympic Aquatic Centre during the 2004 Olympic Games in Athens, Thursday, Aug. 19, 2004. Phelps won the gold medal with an Olympic-record time of 1:57.14. [AP Photo]
Nineteen-year-old Phelps led from the start and finished almost a body length ahead of compatriot Ryan Lochte. With two bronze also won, he could be the first swimmer to win eight medals at a single Olympics, equaling a record for all sports.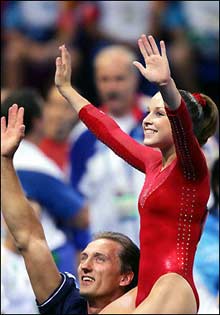 Carly Patterson of the US waves from the shoulders of her coach Evgeny Marchenko after winning the Women's Individual All-Around Gymnastics Final in the Olympic Indoor Hall at the Olympic Games in Athens. [Reuters]

Patterson captured the all-round individual gymnastics title, ending Russian veteran Svetlana Khorkina's bid for a third and final dose of Olympic glory at age 25. But Khorkina left a marker for her generation, taking silver in the teen-dominated sport.

Two earlier golds in the pool had raised the United States' gold medal haul to 13, one behind China in the overall medals race.

Phelps's team mate Aaron Peirsol was dramatically stripped of his gold in the men's 200 backstroke because of an alleged illegal turn. But his victory was quickly restored on appeal and Austria's Markus Rogan had to be content with his silver.

American world champion and world record holder Amanda Beard seized the top honors in the 200 meter breaststroke.

China's shrinking medals lead was defended by weightlifting phenomenon Liu Chunhong, also 19, who took the title and set a world record in the women's 69 kg class with lifts totaling 275 kg, giving China its fourth weightlifting gold of the Games.

Zhang Jun and Gao Ling of China tossed another gold onto China's pile at the mixed doubles badminton and Zhang Ning grabbed gold in individual competition at a badminton grand old age of 29.

"Being more mature means playing better and I've never looked at my age as a big factor," said Zhang.

Farewell Popov

Outside the arenas on Day Six, the Games of the 28th Olympiad was annoyed by a bomb hoax, disappointed by more doping cases and buffeted by Middle East politics.

Olympic officials backed away from sanctioning Iran for its judo world champion's failure to fight an Israeli and five new doping cases in weightlifting were reported.
| | | | | | |
| --- | --- | --- | --- | --- | --- |
| rank | country | gold | silver | bronze | total |
| 1 | US | 14 | 11 | 10 | 35 |
| 2 | China | 14 | 9 | 6 | 29 |
| 3 | Japan | 9 | 4 | 2 | 15 |
| 4 | Australia | 7 | 5 | 7 | 19 |
| 5 | Ukraine | 5 | 1 | 1 | 7 |
| 6 | Italy | 4 | 5 | 3 | 12 |
| 7 | France | 4 | 3 | 4 | 11 |
| 8 | Germany | 4 | 2 | 7 | 13 |
| 9 | Russia | 3 | 8 | 10 | 21 |
| 10 | Turkey | 3 | 0 | 1 | 4 |
Iran had publicly boasted that its judo world champion Arash Miresmaeili -- disqualified for showing up over the maximum weight -- was told not to go to the mat with Ehud Vaks last Sunday because of Tehran's political boycott of Israel.
But the International Judo Federation (IJF) said that after investigation it had determined that it was not politics that kept Miresmaeili from fighting Vaks, but a digestive problem. He was fully 5 kg over the 66 kg limit at the weigh-in.
"The commission concluded that since Mr. Miresmaeili stated that he had no pre-planned intention for not competing ... the only point that remained was that Mr. Miresmaeili was overweight on the weigh-in day," the IJF said in a statement.
World weightlifting officials said seven lifters from Morocco, Moldova, Hungary, India, Turkey and Myanmar had tested positive for performance-enhancing drugs in pre-Olympics tests and had been kept out of the Games.
Anarchists claimed responsibility for a bomb threat at the Greek Athletics Federation's headquarters, but police said they found only a bag filled with minced meat and syringes.
The little-known "Anarchists' Intervention" group said "commercialized sports serving records, profits, sponsors and medals at any cost cannot but be covered in anabolics."
The fate of Russian swimming great Alexander Popov was a reminder that sporting superpowers come and go and the path to Olympic glory is unforgiving.
Competing at his fourth and final Olympics at age 32, he failed to make it past the heats of the 50 meters freestyle.
"He deserved a final to end his career but there are no gifts at this meet," said Jacco Verhaeren, the coach of Popov's great Dutch rival Pieter van den Hoogenband.
Phantom Skid?
Noriko Anno landed a record sixth judo gold medal for Japan and Manfred Kurzer of Germany won gold in probably the last Olympic 10 meter running target shoot. The event is being axed as part of a drive to trim the Olympics.
Unsurprisingly for many Greeks, state investigators were reported to have grave doubts about the alleged motorcycle crash that put Greece's top two sprinters in hospital last week just as Olympic officials were hunting them for a doping test.
They withdrew from the Games Wednesday, maintaining their innocence. A judicial source told reporters police could not find the oil patch on a street where they said they gone into a skid.
In an unseemly row in a gentlemanly sport, France, Britain and the United States lodged a challenge to Germany's gold medal in the equestrian team three-day event.
The three, dropped a peg by Germany's gold, united in an appeal to the Court of Arbitration for Sport (CAS).