Sharon's party rebels, imperils Gaza pullout plan
(Agencies)
Updated: 2004-08-19 09:05
Israeli Prime Minister Ariel Sharon's Likud party has dealt a serious setback to his plan to evacuate occupied Gaza by voting to bar him from forging a broad coalition with the Labour opposition.
Wednesday's motion sponsored by rightist rebels at a snap Likud convention in Tel Aviv was non-binding and Sharon signaled he would soldier on with his blueprint to "disengage" from chronic conflict with the Palestinians.
But the 58 percent "no" vote by members of Likud's Central Committee to the question of whether the party should ally with Labour, a firm advocate of trading occupied land for peace with Palestinians, mired Sharon's plan in uncertainty.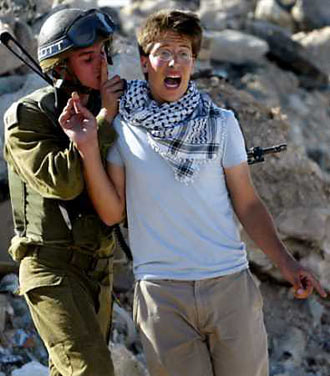 An Israeli soldier restrains a peace activist during a protest at the Qalandiya check point, at the entrance of the West Bank city of Ramallah, August 18, 2004. [Reuters]


Polls show most Israelis favor evacuating Jewish settlers from Gaza, regarding the coastal strip as a bloody liability. Likud rebels argue that abandoning any land Israel captured in the 1967 Middle East war would "reward Palestinian terrorism."

Sharon needs Labour in his cabinet to assure a parliamentary majority for putting withdrawals into motion next year.

In a speech before the secret ballot, Sharon said he was acting for the good of Israel and not his political survival.

"There are times in the life of a nation when it must make difficult decisions. The state of Israel has reached that moment," Sharon said, raising his voice to be heard over a crowd of hardline hecklers chanting, "Yes to Likud, no to Labour."

"This is the voice of someone who knows how to lead a nation above any interest, whether partisan or personal," he said.

Sharon argues that taking no action to defuse chronic fighting with Palestinians will expose Israel to an internationally imposed solution likely to endanger its security by forcing a wholesale territorial retreat.

But if the former general ignores Likud's message, he may face a split in Israel's largest, most popular party, or early elections, which would shelve a Gaza withdrawal indefinitely.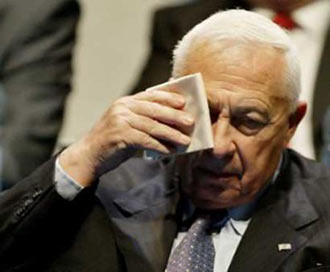 Israeli Prime Minister Ariel Sharon wipes sweat from his face during a Likud party convention in Tel Aviv, August 18, 2004. Sharon's party voted to bar him from forming a coalition with the Labor opposition, an embarrassing blow that complicates his plan to withdraw from occupied Gaza. [Reuters]


The Israeli daily Haaretz quoted senior Labour lawmaker Dalia Itzik as bemoaning the Likud vote, saying it could make Sharon a lame duck and precipitate new elections.

LIKUD BLOCKS 'ZIONIST' LINKS

Central Committee delegates, seen as more right-wing than much of Likud's electorate, also narrowly voted down an alternative motion from Sharon requesting clearance to negotiate with unnamed "Zionist" parties on expanding his coalition.

Sharon shrugged off a similar Likud referendum vote in May against his decision to dismantle all 21 Jewish enclaves in Gaza and four of 120 in the West Bank -- a shock reversal from decades as godfather of settlement expansion.

In June, Sharon cajoled rightist Likud ministers into endorsing "disengagement." But he secured only a cabinet vote "in principle" for the plan, and only after some mutinous far-right partners defected or were sacked.

Their exit stripped Sharon of his parliamentary majority, driving him into negotiations with Labour.

Uzi Landau, a Likud minister without portfolio and leader of the anti-withdrawal campaign, said Sharon could easily rebuild his majority with right-wing parties.

"Do not run over the settlers and do not knock down the Likud movement," said Michael Eitan, a nationalist Likud legislator urged Sharon at the convention.

Sharon's "Disengagement Plan" entails removing 8,000 Jewish settlers from Gaza, where they live in fortified enclaves among 1.3 million Palestinians, and closing four of the 120 West Bank settlements, but does not involve giving up larger West Bank enclaves with most of the 240,000 settler population.

That has raised Palestinian fears that "disengagement" is just a smokescreen to circumvent a stalled U.S.-backed peace plan promising them a viable state in the West Bank and Gaza.

Israeli tanks rolled into Rafah, a Gaza refugee camp and Palestinian militant bastion, early on Thursday. Witnesses said Israeli gunfire wounded two Palestinians and three homes were razed, adding to hundreds in ruins from four years of raids.

The army said its forces were again hunting for tunnels militants have burrowed to smuggle in arms from nearby Egypt.




Today's Top News
Top World News

China opens up press wholesale market




Spotlights on college admission abuse




US closes in on China on Olympic gold tally




China pushes kindergarten security




European drug maker gives up patent




HK witnesses strong economic growth