Showbiz calls for better management
(China Daily)
Updated: 2004-08-19 08:40
Show business is booming in China today, especially when compared with the nation's film industry.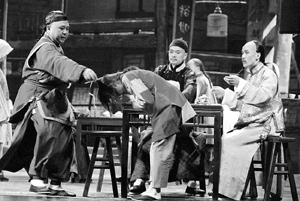 The play "Tea House" performed by Beijing People's Art Theatre always attracts theatre-goers. [China Daily]

"Chinese shows including folk operas, modern dramas, and classical and pop concerts, run almost every day in cities and towns," says Zhang Yu, general manager of China Arts and Entertainment Group.

Quite a number of productions have remained hits, Zhang says.

Beijing People's Art Theatre has performed the play "Tea House" 500 times at the Capital Theatre since its 1957 premiere, while director Meng Jinghui's avant-garde or experimental dramas always attract theatre-goers.

Their shows have also ventured beyond China's borders. Major Chinese performing arts groups, such as the National Ballet of China, have also toured abroad, offering international audiences a glimpse of Chinese performers' diversified arts and creativity.

But despite the boom, insiders insist that problems need to be addressed to balance the industry's development.

Mega shows

Over the past few years, many theatre-goers in Beijing and Shanghai have had ample opportunities to sample what are arguably the best theatrical productions and see and hear the best singers in the world.

US diva Whitney Houston just completed her cross-China tour with three stops - Hong Kong, Shanghai and Beijing - last month.

In October, Beijing's music fans will be able to attend concerts with an array of shining stars from the world of classical music, during the Beijing Music Festival.

In December, "The Phantom of the Opera" by the Really Useful Theatre Company will debut in Shanghai following its African tour.

In a way, Beijing and Shanghai have become favourite local markets for the international entertainment businesses.

According to senior professionals, there are two standards which mature Western performance agents use when judging whether to come to China - the consumption level of a certain place and the ability and experience of local people to organize large scale events.

In many international agents' eyes, big Chinese cities like Beijing and Shanghai have met the two standards, meaning they are now an important part of the international show business industry.

Deputy General Manager of Shanghai Grand Theatre Qian Shijin said the Chinese performance market started forging links with the world market five years ago.

Take musicals for example. Qian wanted to bring Western musicals to theatres on the Chinese mainland in the early 1990s. However, his repeated invitations to Andrew Lloyd Webber and his Really Useful Theatre Company were politely turned down.

One blunt response Qian got indicated China did not have an audience big enough to have a Western musical running in its theatres.

Chinese audiences had to wait until June 2002 when Webber's "Les Miserables" arrived in Shanghai, becoming the first-ever Western musical production staged by a leading Western company on the Chinese mainland.

The musical proved to be a great box office success with every ticket sold out for the last few shows.

The success of "Les Miserables" substantially accelerated the process of introducing world famous productions to the Chinese entertainment market.

To date, the musical "Cats" has already taken to the stages of Beijing and Shanghai.

Discrimination?

However, some people believe the booming entertainment market favours some but discriminates against others, especially Chinese productions.

David Lau, an overseas Chinese returnee, says those international performances are extremely popular in China and they are staged at the best theatres. The ticket prices are often very high.

In sharp contrast, Chinese productions, whether dance, drama or local operas, are being staged in theatres with poorer facilities, Lau says. These shows have not enjoyed the same box office success as their international counterparts.

The annual report of the Shanghai Culture, Radio and Film Administrative Bureau says 20 per cent of the theatrical productions made 80 per cent of the total box office revenue. The overwhelming majority of the 20 per cent were foreign productions.

Several factors contribute to this phenomena.

Though comparison between domestic shows and the likes of "Cats" is inappropriate, Zhang Yu says many people will remember such big names as the Three Tenors or Sarah Brightman, even if they only give one or two performances in China.

"They are superstars, or, at least internationally popular," Zhang says. "They give one or two shows, to audiences of 5,000 or 10,000."

Zhang admits the foreign productions are more costly than the home-made shows, but this is simply a case of supply and demand.

"It is very often the case that several Chinese show agents compete for one production," Zhang says.

Insiders point out that as the Chinese show business market integrates with the international market, the Chinese performance agents have invested money only in productions labelled foreign, regardless of its quality or price, in order to reap mega profits.

A senior Shanghai performance agent who wishes to remain anonymous says: "The disorder and vicious competition in the performance market is a poor repetition of the foreign trade market in China some 20 years ago."

As foreign productions always make money, many Chinese performance companies and even some outsiders are fiercely bidding to host foreign productions in China, especially those featuring world-famous singers or actors.

As a result, some international performance agents, with connections to these superstars, make full use of such market confusion to earn more money from their local counterparts.

Although the disposable per capita income of Shanghai residents ranks first in China, the majority of those with a monthly salary of 3,000 yuan (US$362) have not got a chance to enter the best theatres.

Ticket prices for shows featuring megastars are often astronomically high. For example, some tickets for the Three Tenors' performance at the Forbidden City in June 2001 cost as much as US$2,000.

In contrast, it only costs 5 yuan (US$0.6) to listen to pingtan, a traditional Chinese art form, in the Jing'an Magnolia Theatre.

In Beijing, the show business market is becoming increasingly diverse and many leading performing troupes are faring quite well, not only in Beijing but also across the country.

The National Ballet of China has performed around 70 shows on average each year in cities around China, according to Zhao Ruheng, the company's president.

"State-run ensembles are now reforming their management in order to adapt themselves to the market," Zhang says.

Sun Mingzhang, chief executive of Shanghai City Dance Co Ltd, points out that China's show business industry is short of professional show managers and presenters.

"Many managers of local troupes are retired performers. They are not good at business and have no creative ideas of how to promote and sell a production," says Sun.

Other experts argue that the entertainment business people should not shoulder all the blame.

They say many local productions just lack originality and some of these mediocre productions have disappointed the local audience too many times.

With the cities increasingly alluring as centres for international shows, Beijing, Shanghai and others cities should work harder to nurture their own local artists and foster their own shows.

A booming entertainment market does not sustain itself on the scattered shows of top international theatrical productions or megastars.

As a matter of fact, audiences are becoming mature and resistant to the substandard productions, even though they may come from overseas.

Going abroad

While a large succession of foreign productions flowing into China's market, some believe not enough Chinese productions have gone abroad.

The most regular touring Chinese performing arts groups offer only the traditional kung fu and acrobatic shows or Peking Opera.

Chinese artists and show business people are trying to turn the tide with high quality and original productions.

The National Ballet of China has proved itself to be one of the leading Chinese ensembles conquering the world.

Last October and November, it brought two productions - "The Red Detachment of Women" and "Raise the Red Lanterns" - and a triple bill to tour 14 cities in France, Italy and Britain for 29 sell-out shows.

The ticket price, ranging from 20 to 60 euros (US$24.5 to US$73.6), is of the same for any shows at those theatres.

Zhao Ruheng recalls that in many cities, audiences stood at the theatre door for one hour or even longer before the show to wait for returned tickets.

After the performances, they gave standing ovations and applauded for up five to 10 minutes.

"The tour was un-expectedly successful. The audience said they seldom saw Chinese ballet and they were interested in original Chinese ballet," says Zhao.

Sun Ming-zhang, a businessman-turned dance devotee, has invested in and produced two box office hits, "Wild Zebra" and "Farewell My Concubine."

A long lists of international show agents have settled for the two productions and planned to bring them to Europe, Australia and Japan.

His next venture is an acrobatic "Swan Lake" which will premiere at the Shanghai Oriental Arts Centre on January 1 to formally open the newly-built theatre in Shanghai.

"I have invited 150 show managers from around the world to see my new product and I believe they will love it," Sun says with great confidence. Even traditional kung fu and acrobatic gigs are improving.

According to Zhang, the circus "Dragon and Lion" co-produced by China Performing Arts Agency, which belongs to China Arts and Entertainment Group, and a Canadian circus has successfully toured North America for five years. Ticket price ranges from US$60 to US$100.





| | |
| --- | --- |
| | |
| Cruise to star in 'War of the Worlds' | |

| | |
| --- | --- |
| | |
| Nicole Kidman helped Halle Berry strip | |

| | |
| --- | --- |
| | |
| Tidbits of Beijing life | |
Today's Top News
Top Life News

China opens up press wholesale market




The 16th typhoon this year to hit East China




US closes in on China on Olympic gold tally




China pushes kindergarten security




European drug maker gives up patent




HK witnesses strong economic growth