China pushes kindergarten security
(Xinhua)
Updated: 2004-08-19 02:28
After experiencing two fatal kindergarten-related tragedies in early August, China is intensifying its efforts to ensure children's health and security in kindergartens across the country.
"All kindergartens, especially privately run ones, must draw up strict safety regulations, adopt a responsibility system for administrative personnel, and set up a health care system to improve hygiene," the Ministry of Education said in an urgent circular.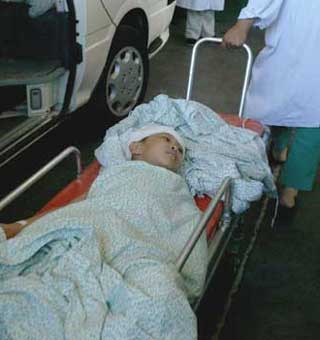 A boy is wheeled into a hospital in Beijing after he was stabbed by the kindergarten doorman August 4, 2004. [newsphoto]

The National Education Supervision and Guidance Group has decided to put kindergarten security as top priority of this year' s work, the ministry said.

Kindergarten buses used to pick up children must receive regular safety checks and the drivers must obtain driving licenses and register with local education authorities before working, the ministry said.

All kindergarten staff, including sponsors, administrative personnel and teachers, are ordered to carefully study and strictly observe relevant national regulations on kindergarten management.

"Kindergartens should offer medical checkups and on-job training to all staff members and dismiss those who are unqualified," the ministry said.

Meanwhile, the ministry ordered all local governments to carry out a general overhaul of kindergarten security across the country, involving classrooms, indoor and outdoor playgrounds, teaching materials, toys, dining halls, food, fire prevention facilities, school buses and surrounding environment.

Local governments must also examine the qualifications and the physical and mental health of kindergarten staff, in order to eliminate hidden troubles.

On Aug. 4, a gatekeeper at the kindergarten run by the No. 1 Hospital of Beijing University stabbed 15 children aged from 2 to 6 and three female teachers, leaving one child dead, and two other children and a teacher seriously wounded.

Several days later, a kindergarten building in central China's Henan Province collapsed, killing two children and leaving 28 others in hospital for further treatment and medical observation.




Today's Top News
Top China News

Press wholesale market opens up




The 16th typhoon this year to hit East China




European drug maker gives up patent




Int'l patent fair opens in Dalian




HK witnesses strong economic growth




Spotlights on college admission abuse