Iraqi peace mission snubbed by rebel cleric
(Agencies)
Updated: 2004-08-18 10:49
Radical cleric Moqtada al-Sadr on Tuesday refused to meet an Iraqi peace delegation because of "American aggression" as U.S. troops pounded militia positions in Najaf near the country's holiest Islamic sites.
The failure to hold face-to-face talks raises the possibility of a U.S.-led offensive to crush Sadr's Mehdi Army in the city, scene of 13 days of fierce fighting that has killed hundreds.
Braving U.S. bombardment and militia sniper fire, the group of eight political and religious leaders drove to al-Sadr's office seeking to end a rebellion in the holy city and other parts of Iraq.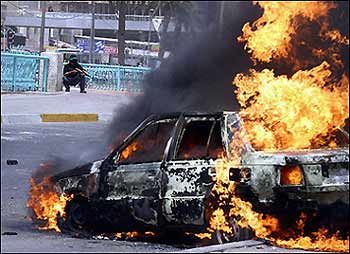 A militiaman loyal to Shiite Muslim cleric Moqtada Sadr takes position as a car burns in the southern Iraqi city of Basra after three British civilian vehicles were hit by a roadside bomb, causing no casualties. [AP Photo]


A Sadr aide told reporters accompanying the delegation that Sadr refused to meet them "because of continued aggression by the Americans."

Another aide in Baghdad, Sheikh Mahmoud al-Soudani, said: "He declined to meet them due to security reasons and heavy shelling in Najaf."

The delegation had met Sadr's top aides and waited for the young cleric for three hours at the city's holiest shrine, the Imam Ali Mosque, where many of Sadr's militiamen are holed up.

Sadr's top aide Sheikh Ali Smeisim, who met with the delegation, tried to soften the impact of Sadr's failure to show up.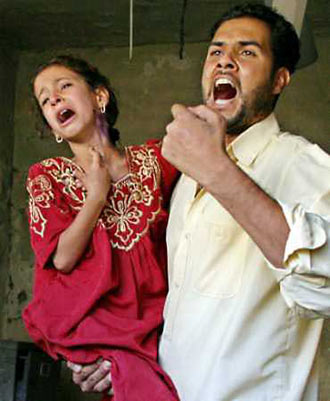 An Iraqi girl, carried by her uncle, grieves after losing her mother and sister during clashes between U.S. forces and militiamen royal to radical Shi'ite cleric Moqtada al-Sadr in the eastern Baghdad's suburb of al-Sadr August 17, 2004. Fierce clashes erupted in Sadr City late August 16, 2004, following an afternoon of battles after militia exploded a bomb under a U.S. tank. [Reuters]



"What we heard (from the delegation) contains positive indications. We are willing to discuss them," he said. He had told the delegation that Sadr was at a "secret location" and would come if the U.S. forces eased its noose around the shrines.

There were chaotic scenes when the delegation arrived inside the Imam Ali shrine.

More than 1,000 young men shouted, beat their chests, raised their fists in the air and chanted "long live Moqtada." Explosions and gunfire from the nearby vast cemetery could be heard.

After the snub the group drove to the governor's headquarters as fighting raged in the cemetery, where U.S. gunship helicopters fired on rebels who responded by firing mortars and machine guns at U.S. and Iraqi government forces. Witnesses said they later returned to Baghdad.

The delegation flew in on U.S. Black Hawk helicopters from a meeting in Baghdad where 1,300 delegates sought to select an interim national assembly to oversee the government of Prime Minister Iyad Allawi.

HEATED DEBATES

Heated debates over Najaf and selecting members to the assembly have dominated the unprecedented gathering in Baghdad, a step on Iraq's tortured road to democracy.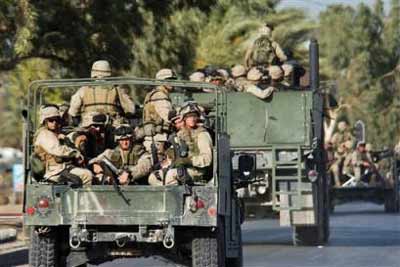 American soldiers patrol the streets of the besieged city of Najaf, in southern Iraq Tuesday Aug. 17, 2004. A U.S. warplane bombed near Najaf's vast cemetery as fighting with Shiite militants intensified Tuesday. [AP Photo]

The conference, scheduled to end on Tuesday, was extended to Wednesday after many delegates opposed a list of 81 candidates presented to the meeting by the pro-U.S. interim government, conference chairman Fouad Massoum said.

The remaining 19 members will come from the Governing Council, a 25-member body appointed by the U.S.-led occupation before the June handover of power.

"If we stay here longer you will not be able to go home," Massoum said, referring to the shaky security situation.

Once appointed, a 100-member national council will oversee the interim government until January elections. It will be able to veto legislation with a two-thirds majority, approve the 2005 budget and appoint a new prime minister or president should either quit or die in office.

Allawi needs to quell the Shi'ite rebellion that has hit eight central and southern cities and undermined his authority just seven weeks after he took over from U.S.-led occupiers.

But he is walking a dangerous tightrope, with passions in the majority Shi'ite country at boiling point over U.S. troops fighting near holy sites in Najaf.

In Baghdad, insurgents fired a shell into a busy street, killing at least seven people including two children. The attack wounded 42 people, leaving pools of blood on sidewalks.

In London, the Ministry of Defense said a British soldier was killed during clashes with Shi'ite militiamen in Iraq's southern oil port city of Basra on Tuesday.

A Reuters photographer was wounded in the leg while covering the fighting in Najaf. The photographer, an Iraqi, was treated for bullet fragment wounds at a U.S. combat hospital and later released.

A U.S. marine was killed in action in a restive Sunni Muslim area west of Baghdad on Tuesday. A U.S. military statement said the marine, assigned to the Marine Expeditionary Force, was killed in al-Anbar province "while conducting security and stability operations."

The Anbar province includes the cities of Falluja and Ramadi where Sunni insurgents launch almost daily attacks on U.S. and Iraqi government forces.

At least 704 U.S. servicemen and women have been killed in combat since the U.S.-led invasion of Iraq last year.




Today's Top News
Top World News

Natural disaster affects almost 13 million




Official gets death for stealing relics




China: US sending "wrong signal" to terrorists




China cracks down on "phone sex" services




Japanese snakehead deported from China




Beijing highway boss to be arrested for bribe