China says DPRK will not pull out of nuke talks
(Agencies)
Updated: 2004-08-18 09:29
China said the Democratic People's Republic of Korea (DPRK) will not be pulling out of six-party nuclear talks despite Pyongyang hinting Washington's hardline policy made the negotiations unworkable.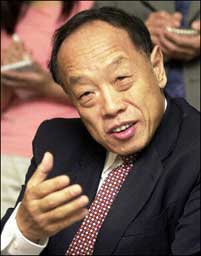 Chinese Foreign Minister Li Zhaoxing played down suggestions that DPRK would pull out of six-party nuclear talks. [file photo]

"I think the DPRK won't, under the current circumstances, pull out of the six-party process," China's ambassador for the Korean peninsula Ning Fukui told reporters after meeting with senior DPRK officials.

"DPRK didn't say they won't join, they are just currently stating the differences between DPRK and the US."

Chinese Foreign Minister Li Zhaoxing also played down suggestions the DPRK might abandon the discussions.

"I haven't heard about this," he said. "There are still some difficulties. But I believe our work... will continue to overcome the problems."

Pyongyang was reportedly hinted on Monday through its official media it might not attend a next round of multi-party talks expected by the end of September, citing the hardline US stance.

"It is clear that there would be nothing to expect even if the DPRK sits at the negotiating table with the US under the present situation," a foreign ministry spokesman said.

Washington later played down Pyongyang's statements, with the State Department saying it was proceeding with the assumption that a "working group" meeting between officials from the six countries involved would go ahead as planned sometime before the end of next month.

"We haven't heard anything from the North Koreans (DPRK) at this point that would change our assumption about holding those talks," said Tom Casey, a department spokesman.

While optimistic Pyongyang would continue the talks, Ning, who met in Beijing Monday with Li Gun, head of the DPRK delegation to working level sessions of six-nation talks, would not say if September was a realistic option.

"It is difficult for me to say when the work group can meet," he said.

"We believe it is possible to come to a new compromise and consensus, and it is possible to really push forward the preparations of the meeting."

DPRK on Tuesday continued signalling skepticism over the talks, saying the United States of seeking to "stifle" the country rather than resolve a the nuclear standofff through peaceful talks.

"It (the United States) seeks to disarm the DPRK while having dialogue on one hand and posing a military threat to it on the other," said the Minju Joson, official mouthpiece of DPRK's cabinet.

"It is gravely mistaken to think this would work on the DPRK."

A third round of talks which brought together the United States, the two Koreas, China, Japan and Russia in Beijing in an effort to resolve the impasse ended in June without tangible progress.

The United States tabled a plan then giving Pyongyang three months to shut down and seal its nuclear weapons facilities in return for economic and diplomatic rewards and security guarantees.

DPRK appears to have rejected that outright.

In another diplomatic attempt to convince Pyongyang to accept a deal, close US ally Australia was sending Foreign Minister Alexander Downer to DPRK on Tuesday.

Downer said in Beijing he would try to impress upon Pyongyang that it would enjoy "great opportunities" if it abandoned its nuclear program.

"Those opportunities will be borne out of substantial economic engagements with many countries, including a significant Asia-Pacific economy like Australia," Downer said.

Australia would substantially increase its engagement with the country, not just in terms of aid, but trade and investment, he said.

The stand-off erupted in October 2002 when the United States accused Pyongyang of operating a nuclear weapons program based on enriched uranium, violating the 1994 nuclear freeze of its separate plutonium producing program.




Today's Top News
Top World News

Natural disaster affects almost 13 million




Official gets death for stealing relics




China: US sending "wrong signal" to terrorists




China cracks down on "phone sex" services




Japanese snakehead deported from China




Beijing highway boss to be arrested for bribe