Yao Ming takes anger out on New Zealand
(Agencies)
Updated: 2004-08-18 07:20
An angry Yao Ming took his frustrations out on New Zealand at the Olympic men's basketball tournament on Tuesday, pouring in 39 points as China beat the Kiwis 69-62.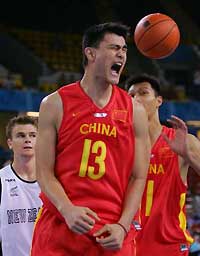 China's Yao Ming (13) reacts to a score in the first half of play against New Zealand during their men's basketball game in the Athens 2004 Olympic Games August 17, 2004. [Reuters]

The 23-year-old Yao, who at 2.29 meters (7 ft 6 in) is the tallest man in Olympic history, was very disappointed when China lost their opening match to Spain.

But Tuesday's performance, which included 13 rebounds, should go a long way to changing the feelings of the Houston Rockets' all-star.

"He's not going to retire. When you interview a player right after a very bad performance, not giving him time to rest a bit, he might say something he doesn't really mean," said coach Del Harris, a NBA veteran who was brought in to prepare the Chinese team with an eye on the 2008 Beijing Olympics.

Forward Phillip Jones led New Zealand with 23 points but the team as a whole had a poor effort from the field, hitting only 23 of 66 shots.

"Too much Yao, not enough outside shooting," said San Antonio Spurs forward Sean Marks.

In other preliminary round action, Australia beat Angola 83-59 and Puerto Rico came back to earth, losing to Lithuania 98-90 in their first game since propelling the United States to their first Olympic defeat since 1988.

Puerto Rico's Utah Jazz guard Carlos Arroyo and the rest of the team could not find the same magic against a powerful Lithuania.

Arroyo had 25 points, as did team mate Elias Ayuso, but the Puerto Rican bench provided little more.

"I don't think we came out with less energy (than against the U.S.). We didn't get back on defense and they took advantage of running us. They have great shooters and they took advantage of that the whole game," Arroyo said.

Ramunas Siskauskas led Lithuania with 23 points, while Arvydas Macijauskas had 19 and Sarunas Jasikevicius had 18 and seven assists.




Today's Top News
Top Sports News

Natural disaster affects almost 13 million




Official gets death for stealing relics




China: US sending "wrong signal" to terrorists




China cracks down on "phone sex" services




Deals strengthen Sino-Mexican ties




Yao Ming takes anger out on New Zealand