US killer suspect to lover: You've nothing to fear
(Agencies)
Updated: 2004-08-17 16:19
Scott Peterson told Amber Frey, his one-time mistress, that she had no reason to fear for her life after his wife's disappearance, according to taped telephone calls played for jurors at his double murder trial Monday.
During a call on January 8, 2003, two days after admitting to Frey he was married, Peterson also told her his wife learned of their relationship soon after their first date in November and that she did not have a problem with him dating another woman.
Monday was the fourth day jurors listened to tapes Frey made of telephone calls with Peterson at the request of Modesto police after she learned her lover was a suspect in the disappearance of his pregnant wife, Laci, last seen on Christmas Eve 2002.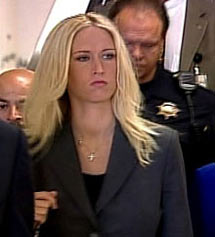 Frey leaves court Monday, August 16, 2004. [AP]

Peterson, 31, is charged with murder in the deaths of his 27-year-old wife and unborn son, whose badly decomposed bodies washed ashore along San Francisco Bay in April 2003. He could face a death sentence if convicted.

On the January 8 recording, Frey expressed skepticism and concern about their relationship. She said she had had a previous affair with a married man and described that man's wife as "a complete crazy woman."

At one point during the call, Frey told him she had trouble believing he was not involved in his wife's disappearance.

"I have a hard time finding you innocent in this, Scott," Frey said.

In response, Peterson said he deserved to be punished for lying to Frey about being single when they started dating.

Later, Frey asked Peterson, "Should I be in fear of my own life?"

Peterson replied, "Not from me, Amber."

Frey then asked, "From whoever took Laci, should I be in fear from -- for -- of them?"

Peterson told her, "I don't think so. I don't see why."

She said she felt as if she were "a magnet to the wrong people ... a magnet to all the wolves in sheep's clothing."

Peterson's mother, Jackie Peterson, wept in the courtroom as the tapes were played.

Outside court, Frey's lawyer, Gloria Allred, disputed Peterson's contention on the tapes that Laci Peterson had no objection to his dating another woman.

"What pregnant woman do you know that would be fine with her husband having a girlfriend? Who is he kidding?" said Allred, who has frequently excoriated Peterson to reporters during breaks in the trial.

Frey, a 29-year-old massage therapist and single mother of two, began taping her phone conversations with Peterson on December 30, 2002.

She testified last week that she called police after discovering Peterson was married and a suspect in his wife's disappearance.

Over the course of several recorded conversations the jury heard last week, Peterson told Frey he lived in Sacramento instead of Modesto and that he owned a condo in San Diego and a warehouse in Modesto.

He also said he planned to join his parents in Kennebunkport, Maine, at Christmas, and that he spent New Year's Eve in Paris, when he actually was in Modesto and scheduled to attend a candlelight vigil for his missing wife.

In one call played Monday, Peterson told her "lying is terrible" and said more than once, "I will never lie again."

Judge Alfred A. Delucchi said more tapes would be played Tuesday, The Associated Press reported.

Defense attorneys said they expected to start cross-examining Frey on Tuesday afternoon, according to the AP.

Frey testified from the witness stand twice Monday to affirm she had made the recordings, the AP reported.




Today's Top News
Top World News

Expert: 37 golds for US and 27 for China at Athens




China grabs 5 more golds, tops medal tally




US announces plan for troop realignment




China tests new guided missile - CNS report




Deng steers China with exploring spirit




GM to begin making Cadillacs in China