Sharon approves 1,000 settlement homes in W.Bank
(Agencies)
Updated: 2004-08-17 15:51
Israeli Prime Minister Ariel Sharon has approved building tenders for 1,000 more homes in Jewish settlements in the West Bank frozen earlier to avoid upsetting the United States, political sources said on Tuesday.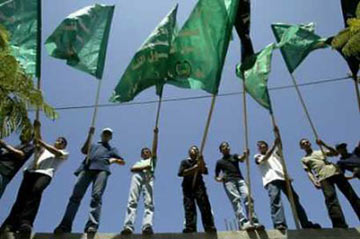 Protesters hold Hamas flags during a protest rally in support of Palestinian prisoners inside Israeli jails, in Gaza August 16, 2004. Israel declared psychological war on hunger-striking Palestinian prisoners on Monday, saying it would barbecue meat outside their cells to try to break their will. The 1,500 inmates, seen by Palestinians as symbols of resistance to Israeli occupation, want wardens to stop strip searches, allow more frequent family visits, improve sanitary conditions and install public telephones, supporters said. [Reuters]


A political source said the move aimed to defuse resistance in Sharon's Likud party to his Gaza pullout plan and to bringing center-left proponents into his coalition. Likud members are to convene on Wednesday to vote on a link-up with the Labour party.

The sources said the tender package did not flout recent understandings with Washington that new Jewish housing in the occupied West Bank, where Palestinians are in revolt, would be built within existing settlement boundaries.

They noted that U.S. President Bush assured Sharon in April that if he carried out his "disengagement" from Gaza, Israel could count on retaining parts of the West Bank with some large settlements under any future peace deal with Palestinians.

But Washington has also been pressing Israel to dismantle proliferating settler outposts and curb settlement expansion to help revive an internationally-backed peace "road map" promising Palestinians a viable state in the West Bank and Gaza.

Political sources said the tenders involved housing in seven settlements Sharon has vowed never to cede.

"Disengagement" entails removing all 21 Gaza settlements containing 8,000 Jews while retaining larger West Bank enclaves with most of the 240,000-strong settler population.

Sharon in the past three weeks also approved tenders for 800 additional homes in the largest West Bank settlement, Maale Adumim. But political sources predicted consultations with Washington before the Maale Adumim construction proceeded.




Today's Top News
Top World News

Expert: 37 golds for US and 27 for China at Athens




China grabs 5 more golds, tops medal tally




US announces plan for troop realignment




China tests new guided missile - CNS report




Deng steers China with exploring spirit




GM to begin making Cadillacs in China