Nicole Kidman helped Halle Berry strip
(Agencies)
Updated: 2004-08-17 11:03
Oscar-winner Halle Berry used Nicole Kidman's stage strip to inspire her sex scenes in Monster's Ball.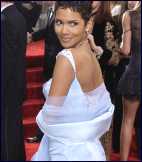 Halle Berry

The actress won the Best Actress Academy Award for her role in the steamy 2001 hit.

But she insists she would never have coped with the film's raunchy and explicit scenes without watching Kidman's performance in play The Blue Room.

Berry, who also appeared topless in 2001's Swordfis, explains, "I remember when Nicole Kidman was naked on stage, and I thought, 'How could she?' Eventually, when the opportunity presented itself to me, I just bit the bullet and did it.

"I would never have been able to do Monster's Ball, for which I won the biggest accolades of my professional life, if I hadn't had the nerve to do it in Swordfish. I had to get over that fear for myself."