Chavez survives recall, vows to deepen revolution
(Agencies)
Updated: 2004-08-17 08:40
Venezuela's President Hugo Chavez easily won a referendum on his rule and on Monday offered to open a dialogue with opponents while also vowing to intensify the reforms at the heart of the nation's political conflict.
World oil prices eased on hopes the clear result would end more than two years of confrontation between the populist leader and critics who say he wants to convert the world's fifth-largest oil exporter to Cuban-style communism.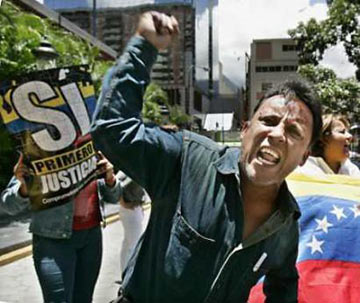 Venezuelans protest against the referendum results in Caracas, August 16, 2004. Former U.S. President Jimmy Carter said on Monday international observers agreed that leftist President Hugo Chavez won an Aug. 15 recall referendum fairly despite opposition concerns over fraud in the vote. Carter led a team of observers monitoring the referendum. [Reuters]


A triumphant Chavez, who survived a coup two years ago and a grueling oil industry strike a year later, urged his opponents to accept his offer of talks rather than turn to violence.

"We've initiated a new phase to deepen this project ... The people must know that now more than ever we will pay the social debt," said Chavez, whose reforms have diverted oil wealth to housing, medicine and education for the poor.

"Venezuela has changed forever ... Any dialogue must be to move this project forward," he said at a news conference.

Former U.S. President Jimmy Carter, who led an observers' mission, said their verification matched results from the National Electoral Council, which gave Chavez 58 percent of the vote in Sunday's recall vote. Officials said more than 8.5 million of the 14 million registered voters participated.

Chavez' victory was a blistering defeat for the opposition, a coalition of political parties, labor unions and civilian groups that fought for more than a year to secure a vote against a leader they accuse of authoritarian rule.

After the results, Caracas remained calm apart from small pockets of protests. Gunmen on motorbikes killed one woman and wounded at least four people in wealthy eastern Caracas after opposition leaders called for protests to challenge "a gigantic fraud," officials and witness said.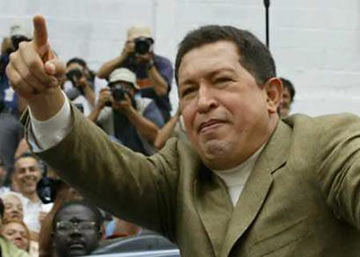 Venezuelan President Hugo Chavez points to supporters after casting his vote in a referendum on his rule in Caracas, August 15, 2004. Both Chavez, a firebrand nationalist who has ruled since 1998, and his opponents have predicted they will win the referendum. [Reuters]

Critics forced the referendum on Chavez by obtaining 2.4 million signatures on a petition, but the results showed the country's poor backed the charismatic president, a friend of Cuban leader Fidel Castro.

United often only by hatred of Chavez, the opposition coalition struggled to present an alternative. Buoyed by soaring oil prices, Chavez meanwhile bolstered public spending on his programs for the impoverished majority.

NO SIGNS OF FRAUD

Chavez foes often criticized top National Electoral Council officials as biased in favor of the president, who was first elected in 1998. They said the recall results were a fraud aided by electronic voting machines. But Carter dashed opposition hopes of international sympathy.

"We have so far not found any element of fraud in this process," he said.

In Washington, U.S. officials said the observers' assessment pressured the opposition to either accept defeat or flesh out their fraud claims so they could be investigated.

Chavez presents himself as a regional voice against U.S. imperialism and he has clashed frequently with Washington over the direction of his left-leaning government. But he said he hoped the vote result would help improve relations.

Oil markets worried a Chavez defeat could trigger unrest in the military and the state oil firm PDVSA, sectors he has purged to ensure key posts are in the hands of loyalists. But Venezuelan oil industry officials said operations were running normally after the vote.

Oil prices slipped from record highs close to $47 to about $46 a barrel, with energy traders saying Chavez's victory eased the threat of disruptions to exports, especially to the United States.

The clean victory for Chavez leaves his critics with few options but to regroup before congressional elections next year and a presidential election in 2006.

But the win also raises questions about where the firebrand leader will take his "Bolivarian revolution" -- a mix of nationalist ideas of Venezuelan liberation hero Simon Bolivar and socialist tenets of equality.

Critics say his reforms have already threatened property rights and edged toward state centralization. He dismisses them as rich, resentful elites.




Today's Top News
Top World News

China grabs 5 more golds, tops the medal tally




US announces plan for troop realignment




Deng steers China with exploring spirit




GM to begin making Cadillacs in China




Law change to strengthen democracy




China, DPRK diplomats meet for nuclear issue