Bush to announce worldwide troop retreat
(Agencies)
Updated: 2004-08-17 01:08
President Bush is expected to announce on Monday the withdrawal of about 70,000 troops from Europe and Asia in a major realignment of the U.S. military presence to better fight the war on terrorism.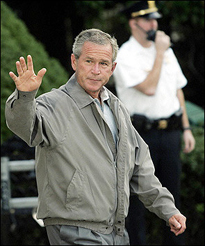 President George W. Bush announced that 60,000 to 70,000 US troops would be brought home from bases in Europe and Asia over the next decade as part of a major defence reorganisation. [AFP]

Bush is to speak in Ohio, seen as one of the November election battleground states, to the Veterans of Foreign Wars to outline a major realignment of the U.S. military presence prompted by the end of the Cold War, U.S. officials said.

Defense Secretary Donald Rumsfeld has said the changes will take years to put in place and did not expect large troop movements soon. But the realignment will mean big changes in long-standing arrangements with close allies and likely more U.S. troops on home soil, at a time when critics say the Iraq and Afghanistan conflicts have stretched U.S. forces.

"The principal characteristics of all of them taken together are that we want greater usability of our forces, that we very likely will end up with more forces back in the United States, that we will be looking for flexibility and relationships so that we can rotate forces in, have exercises with various countries," Rumsfeld told reporters on Sunday as he returned from Europe and Asia.

U.S. officials said the changes will mean the withdrawal of about 70,000 troops from Europe and Asia, two regions where the United States has maintained a major presence since the end of the Second World War in 1945. In the Cold War era, the European forces, especially in Germany, were meant to be a counterweight to the threat posed by the Soviet Union's Warsaw Pact forces.

There are more than 100,000 U.S. troops in Europe, with 70,000 in Germany, and another 100,000 in the Pacific and Asia.

"There will be a shift from Germany, and we've talked to the Germans about that and some numbers, they are doing the same thing -- they're also readjusting their forces and they understand that," Rumsfeld said.

The proposed global realignment includes plans to use bases in Eastern European countries of the former Soviet bloc as transit points to quickly send forces from the United States to trouble spots such as the Middle East and northern Africa.

While many soldiers would be brought home from both Europe and Asia, sophisticated weaponry, including fighter planes, would be sent overseas to some bases to make up for the smaller number of deployed ground troops.




Today's Top News
Top World News

Legislators to strengthen democracy




Seminar steps up anti-crime campaign




New textbook reveals Japan's atrocities




China, DPRK diplomats meet for nuclear issue




Chinese vendors injured in Thailand shootout




Private funds to enter airline industry