Romantic story weds top filmmakers
By Zhu Linyong (China Daily)
Updated: 2004-08-16 08:38
The past few years have seen many collaborations between filmmakers from Hong Kong and the Chinese mainland, the most eye catching of these being Zhang Yimou's latest work "House of Flying Daggers" (Shimian Maifu).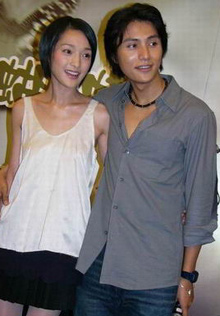 Zhou Xun (L) and Chen Kun pose for a photo at a promotion event of the new film "Mandarin Duck & Butterfly." [baidu]

Again this month, a new film co-production has brought top-notch professionals from the two industries together.

"Mandarin Duck & Butterfly" (Yuanyang Hudie), a romantic story about Hangzhou girl Xiao Yu and her Beijing lover Ah Qin, is to be filmed in Hangzhou, capital city of East China's Zhejiang Province, starting on August 15.


Young actress Zhou Xun stars as Xiao Yu in "Mandarin Duck & Butterfly"

Starring young actress Zhou Xun as Xiao Yu and TV drama pop idol Chen Kun as Ah Qin, the feature film will be directed by Hong Kong film director Yim Ho, who will work with his long-time partners Poon Hangsang, as cinematographer, and William Cheung Suk Ping, as production designer.

Yim is good at in-depth portrayals of romantic figures in heart-warming or heart-wrenching stories, with the adept use of poetic visual sequences.

His film credits include "Homecoming" (Shishui Liunian 1984), "Red Dust" (Gungun Hongchen, 1990), "The Day the Sun Turned Cold" (Tianguo Nizi 1994), "The Sun Has Ears" (Taiyang You'er 1996) and "Pavilion of Women" (Tingyuan Zhongde Nuren 2001).

Both Poon and Cheung have had rich experiences in film production, working alongside such award-winning directors as Yim Ho, Wong Kar-wai, Hark Tsui and Stanley Kwan.

Zhou is best known for her superb performances in Lou Ye's "Suzhou River" (Suzhou He 1998), Wang Xiaoshuai's "Bicycle" (Zixingche 2000), and Fruit Chan's "Hollywood Hong Kong" (Xianggang Youge Haolaiwu 2002).

"The film tackles the subtle subject of the uncertainty of the relations between today's young lovers. They may fall for each other at first sight but neither is sure whether their love will endure the test of time," said Zhou.

The new film also stars Zhang Yue, a former figure-skating athlete, and Linq Yim, a young Hong Kong-born man who was educated in a film school in the United States. Linq Yim is also responsible for the composition of the film score.

Slated to be distributed on next year's Valentine's Day, the film is produced by Wang Dajin, with handsome investment, the exact amount yet to be revealed, from Beijing Centuryhero Film Investment Co Ltd and Beijing Jingmei Fenghuo Advertising Company.




| | |
| --- | --- |
| | |
| Cheering performance | |

| | |
| --- | --- |
| | |
| Aid and shoulders | |

| | |
| --- | --- |
| | |
| Fish stranded in drop of water | |
Today's Top News
Top Life News

Chinese Olympians cautioned of over-confidence




Taipei spy built network in USA




China 'regrets' Japanese shrine visit




Zhejiang mudslide kills at least 25




College admission scandal revealed




Growing energy demand nagging nation